No Raise in the Near Future? Negotiate These Work Perks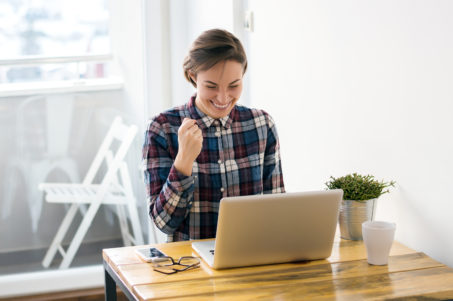 Last month, we discussed the importance of aligning your career with your financial goals. But this is often easier said than done. It's a competitive job market, causing many people take jobs where their salaries may be lower than industry standard. Or, you may simply love the company you're at, even if doing the work you enjoy may not have a high payoff.
New Era Debt Solutions shares what you can ask your boss for in lieu of a raise:
1. Work from Home/Commuter Benefits
You'd be surprised by how sympathetic some employers are to their employees' work commute, especially if they have kids. Try negotiating for one or two work-from-home days each week. If your manager is hesitant, offer to try out this new system on a trial basis. Use this time to prove that you're just as productive out of office as you are in it.
If working remotely isn't an option, you can ask your company to deduct your commuting costs (pre-tax) from your bi-weekly paycheck. It may not be a raise, but it does give you some savings.
2. Tuition Reimbursement
You know you're a good employee but want to advance your skills. If you're enrolled in a graduate or professional certificate program in hopes of growing in your company, your employer may be willing to discuss education reimbursement with you. Many companies are happy to cover a small percentage of your education if your studies are shaping you into the kind of person who will add value to their business.
3. Vacation Time
By and large, U.S. employers aren't known for generous vacation policies but that doesn't mean you shouldn't try vying for more R&R time. If you were politely told "no" when negotiating a higher salary, you can ask for more PTO rather than higher compensation. The bonus? If you leave your job but still have leftover vacation days, you'll be able to cash them out.
4. More Responsibility
There may be no raise in sight, but you can prepare for when that day comes. By asking for more work responsibilities or volunteering to take on extra projects, your bosses will be more likely to keep you in mind when thinking about future promotions and pay increases. Doing these things will also give you leverage if you want to try asking for a raise in the future. You'll have proven your worth to the company and deserve to be rewarded for it.
5. Feedback/Performance Evaluation
Along the same lines, asking your managers for feedback on your work is a way of preparing yourself for a potential salary increase. We know it's can be intimidating but asking for a performance evaluation will open your eyes to the ways you can better contribute to your company. Then by implementing the suggestions you've been given, your employers will notice your work ethic and immediately think of you when it comes time to reevaluate your salary.
Work Perk FAQs
What Are Work Perks?
Work perks, also known as employee benefits or employee perks, are additional advantages or rewards that employers offer to their employees beyond their regular salary or wages. Employers offer these perks to enhance job satisfaction, create a positive work environment, and attract & retain talent. Common examples of work perks include:
Paid time off: Sick leave, vacation, and holidays.
Retirement plans: 401(k) or pension plans that are sponsored by the employer.
Professional development: Conferences, training programs, or reimbursement for school tuition.
Health Insurance: Employer-sponsored insurance coverage for dental, vision, or medical costs.
Flexible work arrangements: Remote work, hours flexibility, or compressed workweek options.
Maternity or Paternity leave: Time off for employees welcoming a new child into their family.
Commuter benefits: Employer-subsidized fuel, parking, or other transportation-related costs.
Social activities: Company-sponsored parties, outings, or team-building events.
Wellness programs: On-site gym equipment, wellness challenges, or fitness memberships.
If I'm Not a Full-Time Employee, Can I Still Get Work Perks?
Benefits for part-time employees depend on the policies of the individual company. Some employers offer great work perk packages for part-time employees, while many do not. It's important to review the employee benefits with your employer's HR department to get an idea of who is eligible for benefits at your company.
In some cases, part-time employees may be eligible for certain benefits such as pro-rated health insurance, retirement plans, or access to employee assistance programs. However, benefits like paid time off or certain types of insurance coverage may be prorated based on the number of hours worked or may have different eligibility requirements for part-time employees.
Get Experienced Financial Help Today
New Era Debt Solutions has settled over a quarter of a billion dollars of debt since 1999 and wants you to be our next success story. If you need assistance achieving financial freedom, contact one of our friendly counselors at New Era Debt Solutions to learn more about finding the debt relief option that best fits your needs and budget. Our counselors are with you every step of the way.