Debt Consolidation Programs
Debt Consolidation is a process that involves taking out a loan to repay debts. It may sound counterproductive, as you are not getting rid of debt, and not getting a debt reduction, but a good debt consolidation program can make payments more manageable so you are not falling further behind & can even benefit your credit score as long as payments are made on time.
Debt Consolidation is a means of obtaining debt relief that can work for you if you find the right program. You will need to work with people who know what they're doing, and you will need to strongly discipline your spending habits as well.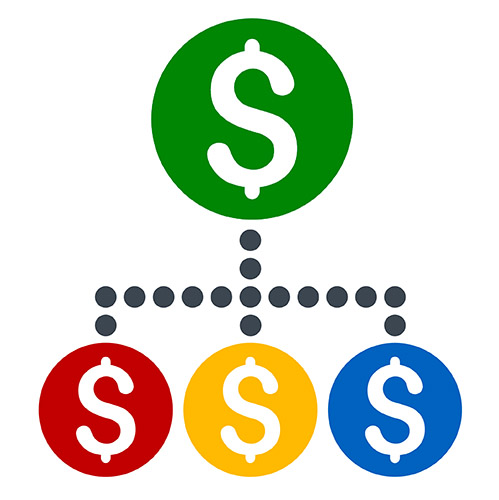 What Do I Need to Know About Debt Consolidation?
The company you choose to handle your debt consolidation program will need to find a loan for you that will lower your interest rate. This will be possible if your credit rating is still good and you have an experienced debt relief company working for you.
The sum of debt is restructured but not eliminated until it is paid off.
Your monthly payments will be lower, but you must make sure there are no hidden fees in your loan and that your loan is cheaper. If it is not cheaper, then don't do it.
Once your credit cards and debts are paid, and you are paying on the loan, you must be extremely disciplined to not accumulate more credit card debt during your debt consolidation program.
You can maintain a good credit rating. This is one of the reasons people choose a debt consolidation program over a debt reduction program.
Need advice on whether or not a debt consolidation program is right for you? Contact a debt relief specialist today at New Era Debt Solutions.
Is Debt Consolidation Right for Me?
Debt consolidation may be a great option for you if:
The total sum of your debt, excluding a home mortgage, doesn't exceed 40% of your gross earnings.
Your credit score is high enough that you can qualify for a 0% interest rate credit card or a low-interest debt consolidation loan.
Your cash flow is able to continuously cover repayments toward your debt consolidation loan or balance transfer credit card.
You plan to participate in a debt consolidation program and have a plan to avoid building debt again.
For many individuals, a debt consolidation program can reveal a light at the end of the passage. If you take on a consolidation loan with a three-year term, you know it will certainly be repaid in 3 years as long as payments are made promptly while properly managing your investing & curbing spending habits. On the other hand, making minimal payments on credit cards can suggest months or years before they're repaid, all while accruing even more rate of interest than the preliminary principal.
Debt consolidation may not be the best option for you if:
You're overwhelmed by debt and would not be able to pay it off even with the reduced payments offered by a debt consolidation program.
Out of control spending habits are what got you buried in debt in the first place.
Your financial debt is small enough that it can be paid off in 6-12 months at your current pace. Small debts may see negligible benefits from consolidation.
If the total of your debts amounts to more than half of your gross income.
Debt Consolidation Frequently Asked Questions
Is Debt Consolidation Going to Help Me Pay off My Debt Faster?
While a debt consolidation program is typically great for reducing the amount owed from month-to-month & lowering interest, most often it will not help the debt be paid off any quicker. But this depends upon your financial situation as well as your ability to make payments over the minimum amount every month. If you can make the minimum payments necessary to pay off your debt, then a debt consolidation program will help you eliminate your debt.
How is Debt Consolidation Different from Debt Management?
While debt consolidation and debt management are different types of debt relief programs, they are uniquely different from each other in how they work to reduce debt. A debt management program involves working with a third-party credit counseling firm to develop a suitable plan for tackling debts, while debt consolidation works by combining multiple debts into a single loan with a lower interest rate.
Another key difference between these two types of debt relief is the eligibility requirements. Debt management often does not require any minimum credit score or a good credit history to get started, while debt consolidation can be much harder to qualify for with lower credit because it involves taking out a loan.
What Types of Debts Can Be Consolidated?
Whether you go with a debt consolidation loan or a balance transfer credit card, you can settle bank cards, store cards as well as gas cards; high-interest car loans; medical bills and also more. Independently, you can also consolidate your pupil car loan(s) by re-financing federal and personal student finances into one financing with one month-to-month payment.
How Do I Consolidate Credit Card Debt?
There are 2 main methods for combining credit card debt. 1. You can move all of your bank card balances onto one credit card with a balance transfer interest rate (typically 0%) 2. Get a debt consolidation loan with low-interest to pay off the debts while making repayments to the provider of the loan.
How Much Student Loan Debt Can Be Consolidated?
Based on credit score rating, you can combine as much as the accumulation amount of your education and learning funding financial debt with a debt consolidation program. Maximum limits might apply. The minimum amount of debt from student loans needed to be eligible for consolidation is $5,000.
If I settle my financial debt, can you pay my financial institutions directly?
Yes. In most cases with a debt consolidation loan, you can distribute funds directly to your lenders or you can obtain a check in the mail to pay them off yourself. With a student loan consolidation, we immediately send out funds to your present loan providers.
Get Your Finances Back on Track with New Era Debt Solutions
You can find relief from debt with a debt consolidation program, but it's crucial to use the best company you can find to ensure that your loan will have the lowest interest rate possible. More importantly, discipline with your financial habits is key so as to not accumulate more credit card debt while paying off the loan.
If you feel that you are in need of help understanding which debt relief options are the best for your financial situation, contact us today & speak with an experienced team of debt professionals who can help guide you in the right direction. Get your life back on track & free of debt with New Era Debt Solutions.