Gaining Control of Debt with Bad Credit
Are you considering debt consolidation as an option but worried that your credit score may be too low to secure a loan? Although it may be more difficult to get a debt consolidation loan with bad credit, it is certainly far from impossible.
Having a poor credit score does not imply that you don't have financial options, but it does imply that your options are more restricted. Unfortunately, it is more challenging to qualify for the lowest interest rates when you are in need of a subprime loan with low credit. Even so, a debtor with a low credit score can still find a consolidation loan that may help their financial situation.
What is a Debt Consolidation Loan for Bad Credit?
Loans are referred to as bad credit debt consolidation loans when creditors have defaulted on debts in the past.
A debt consolidation bad credit loan combines a number of debts that a person has incurred into a singular loan with a lower interest rate, saving money on interest in the long run. Since this type of loan doesn't have to be repaid immediately, borrowers get enough time to prepare for repayment and end up wasting less on interest as the consolidation loan is repaid over time.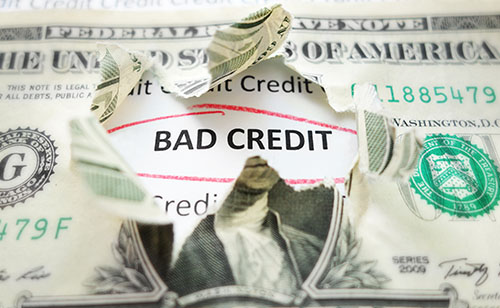 What to Know Before Applying for a Debt Consolidation Loan with Low Credit
Borrowers with a rough credit history can still be approved for debt consolidation loans, so your credit history shouldn't stop you if you feel this is the solution for your financial needs.
You will need to apply & qualify for the bad credit debt consolidation loan, just like with any other loan.
High interest rates are offered on debt consolidation loan if you have a bad credit history, so be prepared to receive a loan offer with interest ranging as high as 36%.
Typical terms for a debt consolidation loan are between 24-60 months, or 2-5 years in length.
If you have a home, you may be able to get an equity loan using the equity in your mortgage.
If you're having difficulty obtaining a loan consolidation for low credit through conventional lenders, you may need to try to find lending institutions that concentrate on subprime lending. The terms of the loan will be less favorable, but will most likely still be preferable to default.
There are many predatory lending companies that offer debt consolidation loans to borrowers with bad credit. Always beware of the fees and interest rates that are associated with the loan & watch out for companies that guarantee approval or are requesting payment before the loan is even approved.
The good news is that there are also legitimate, white hat, debt settlement & consolidation firms who provide the valuable service of offering debt consolidation services to individuals without the best credit history.
Where Can I Get a Debt Consolidation Loan with Bad Credit?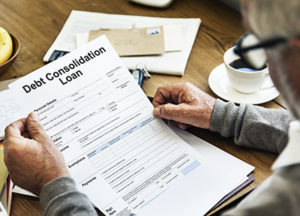 Many borrowers searching for a bad credit debt consolidation loan call their financial institution or credit union first, and while it makes sense to do business with an institution that you currently work with, it may be disappointing if you get declined for the loan. Financial institutions & banks offer a wide selection of conventional financing options as well as other items, but they hardly ever offer debt consolidation loans as an option to individuals with low credit ratings. Since regular financial institutions offer the highest interest rates to individuals with low credit, they are often the worst place to go to when looking for a debt consolidation loan. Instead, it may be better to look for a trustworthy debt relief company that is willing to help – such as New Era Debt Solutions.
Do Debt Consolidation Loans Hurt Your Credit Score?
Although it's often assumed that taking out an all-in-one debt consolidation loan is bad for your credit, that's not always true in the long run. Taking out one of these loans can reduce your interest rate and simplify your payments, making it easier to meet all of your other financial obligations in full, but taking out a consolidation loan can hurt your credit score in the short term. The simple act of applying for a new credit line, such as a consolidation loan, trips a hard inquiry that drops your credit score a few points in the process.
Are Bad Credit Debt Consolidation Loans Widely Available?
Even if you have less-than-stellar credit, debt consolidation may still be an option. If you can't get approved for a loan through your bank or credit union, some companies specialize in hard money loans, or those designed for borrowers with a lower credit score. These loans typically have higher interest rates than traditional bank loans, but they provide more financial freedom as they can be used on any number of things. However, hard money loans are considered the last resort when it comes to consolidating debt, so make sure you explore all other options before applying.
How to Get a Debt Consolidation Loan with Bad Credit
Feel that debt consolidation is the right solution for you? These are the steps you can take to move toward taking out a debt consolidation loan with low credit.
Check credit score. One way to save yourself a few hard inquiries into your credit is to know your credit score before applying for any loans. Once you know your credit score, it's easier to pick out the lenders and offers that may be more suitable for your financial situation. Most creditors that offer consolidation loans list their credit requirements right on their website.
Search for a variety of loan options. More likely than not, the first loan offer you see will not have the best interest rate, terms, or borrowing amount. Shopping around is one of the most important aspects of finding the right offer for a bad credit debt consolidation loan. Starting with online lenders is often the easiest way to see if you'll qualify for a loan without a hard credit check.
Improve your credit. Before applying for the loan, anything that can be done to lower your debt-income ratio or bring your credit score up can make a significant difference in the interest rates offered to you with a debt consolidation loan. It may be advisable to wait a few months to increase your overall credit rating or decrease your debt-to-income ratio to give yourself a better chance of securing more favorable loan terms. Ideally, you would want a score of at least 580 or higher on the FICO Score 8 or Score 9 models.
Add co-signer or consider a secured loan. Some lenders may allow you to add a co-signer to a bad credit debt consolidation loan while others may offer opportunities to take out a secured loan rather than the unsecured loans often offered for debt consolidation. Either of these options can significantly lower the risk that the creditor will face offering the loan and the interest rate and loan term can be much more favorable because of this reduction in lending risk.
Alternatives to a Debt Consolidation Loan with Bad Credit
It is important to understand the variety of debt relief choices that may fit your financial needs before deciding if one is right for your situation. Debt consolidation loans for borrowers with poor credit are one of many viable routes to becoming debt-free, but the solutions listed below can also be feasible debt relief alternatives.
Transfer Balances to a New Credit Card
Although it can be tough to get approved for a balance transfer credit card when you have a low credit rating, it may still be possible to be approved and get the benefit from an introductory interest rate. Even if you don't obtain the benefit of a reduced rate of interest, consolidating credit card debt into a single payment makes it much easier to settle your bills and helps you can focus on repaying the debt with fewer bills to worry about.
Home Equity Loans
Among the many advantages of owning property is the capability to tap into the equity you've acquired over the years & take out a loan against its value. Depending on who the lender is, you may be able to use up 80 to 90 percent of your house's equity to pay down & consolidate your debts.
Peer to Peer Loans
Peer-to-peer borrowing networks offer you an interesting alternative to getting a debt consolidation loan with bad credit. Peer-to-peer financing utilizes crowdfunding to allow a borrower to obtain money from private investors. In this scenario, investors personally assess your financial profile & decide whether or not you are worth the risk of being provided the loan. The capital for this type of loan might be fulfilled by several financiers, but you'll often still only have to make a single monthly payment.
Home Equity Credit Line
A Home Equity Line of Credit (HELOC) is a type of loan where your house is used as the collateral and can be a viable alternative to getting a debt consolidation with bad credit. During the first years of your HELOC, you're often only required to make payments on the interest for the line of credit. However, as soon as this "intro" period is over, you'll often have a set amount of time to repay the full amount of the outstanding debt. A loan provider will consider your total sum of debt, income, and credit score factors when you apply for a HELOC loan.
Bank Loans & Personal Lendings
A bank loan is a brand-new lending that is separate from the primary mortgage of your home and is based on the current equity in your house. When compared to getting a debt consolidation loan with low credit, bank loans carry more risk for the lender and tend to have higher default prices as a result, so they tend to carry greater interest rates than those with primary mortgage loans. The interest rate is definitely something to keep in mind when considering this alternative to getting a debt consolidation loan with bad credit, but a bank loan can be a viable option for relieving your debt.
Cash-Out Refinance
With a cash out re-finance, your home loan is refinanced directly into a new one, utilizing the equity you have actually gained as cash money. The capital can then be used to pay off outstanding debts. The real benefit of this type of refi is that no additional debt is added to the sum. Lenders who offer a cash-out refinance loan will likely take into account: your credit score, your current financial obligations, as well as your overall earnings.
Find Debt Relief Options Available at New Era Debt Solutions
Utilizing a bad credit debt consolidation loan can provide great relief and breathing room for financial recovery. When you are overwhelmed with debt, you should consider all options for paying the debt down, and of course, you should speak with experts who can help you understand debt consolidation with bad credit. They will offer their analysis based on your personal financial situation.
Before taking out a bad credit debt consolidation loan, compare the rates of interest, finance terms, and month-to-month settlement amounts to determine which choice may be the very best for you. At a minimum, your goal should be to maintain or lower your rate of interest with monthly payments reduced as much as possible so you can build some cushion between you and your debt.
Contact us at New Era Debt Solutions to figure out the best form of debt relief for your situation.