Consolidating Credit Card Debt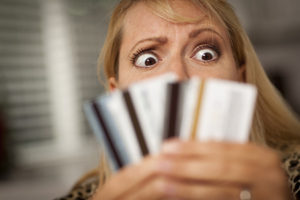 When traditional means of paying off credit card debts do not work, credit card debt solutions like consolidation can be an efficient solution to unbury yourself quickly. Multiple charge card debts are incorporated into a single, lower monthly repayment with the lowest rate of interest possible. This helps you pay the debt off more quickly by going after the principal debt rather than accrued interest charges.
Methods for Consolidating Credit Card Debt
Below you will find the most common types of credit card debt consolidation techniques, how they work, and their pros and cons to help give you the knowledge you need when considering which debt consolidation option is right for you. If you have any questions about a credit card debt solution, give New Era Debt solutions a call (1-800-527-4421) and one of our experts will assist you in selecting the best option of debt relief for your financial situation.
Balance Transfer Credit Card
One of the simplest credit debt consolidation solutions is to get a balance transfer card. Balance transfers can be used as a form of credit card debt consolidation where you transfer debt from a currently active credit card to a new card, one with a 0% introductory interest period. Many credit card lenders offer a 0% introductory APR which can create a great deal for the lending institution as well as the debtor. The length of the intro period depends on the card company, but most of them are between 6-21 months in length.
If you're trying to find an interest-free means to combine your debt, a balance transfer could be an excellent choice as long as you settle your debt prior to completion of the introduction duration.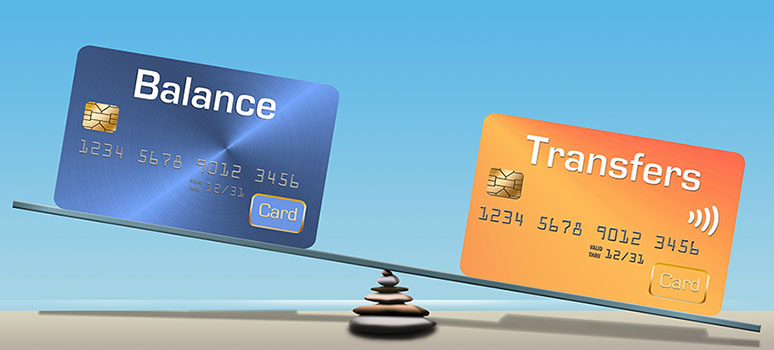 Balance Transfer Pros
It is possible to avoid paying any interest at all if the debt is repaid within the introductory period.
There may be extra rewards or incentives for signing up with a brand-new credit card company.
There are cards that have $0 introduction equilibrium transfer charges, allowing you to cut costs if demands are satisfied.
No fine for repayment of the debt through this method, as long as the debt is repaid within 0% interest period.
Balance Transfer Cons:
Balance transfers cannot be done between cards from the same lender.
Balance transfer cards often require good or excellent credit to secure the best deals.
If the balance is not paid before the end of the introductory period, you may be hit with all the interest you built up, called deferred interest.
A balance transfer card may charge a fee for the transfer, usually amounting to around 3% of your overall transfer sum.
Most balance transfer credit cards require a credit score that is at least good (750+).
Any late payments may end the 0% introductory period early.
Balance transfers can take 14 days to upload to your account. While you wait on the transfer to post, continue to make payments on your debt so you don't incur late costs.
Credit Card Debt Consolidation Loans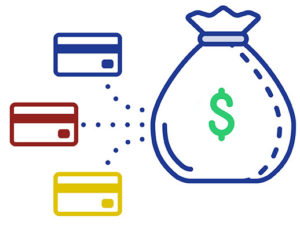 Credit card debt consolidation loans are a type of personal loan used to clear credit card debt. The money from the loan is used to pay off the outstanding credit card debt, leaving only the low interest consolidation loan left to repay. If you're somebody with less-than-perfect credit scores seeking a simple way to combine debt into a single monthly payment with a lower interest rate, a credit debt consolidation loan may be the best option for getting relief from credit card debt.
Advantages to Credit Card Debt Consolidation Loans
You can pre-qualify for many credit debt consolidation loans without hurting your credit rating, allowing you to search for the best possible rates.
Most personal loans are unsecured, meaning if you can't pay for the loan, the financial institution can't repossess your personal effects.
With a credit card debt consolidation loan, you may have the ability to get approved despite having a low credit rating, but expect greater interest rates in return.
Repayment of each individual credit card are often dealt with by the financial institution who gave you the consolidation loan, so you'll know how much money is needed every month to repay the single loan.
Funds from these types of loans are usually supplied to the borrower within 1-2 business days of taking out the loan.
No early repayment fines. Typically, a credit card debt consolidation loan can be repaid early without incurring additional costs.
Disadvantages to Credit Card Debt Consolidation Loans
With credit card debt consolidation loans, rates of interest differ by credit score, with rates ranging from as low as 3% to upwards of 36%. If you have a credit rating listed below 600, it is highly likely that you will be offered an interest rate on the higher end of the spectrum for a credit debt consolidation loan.
The loan quantity is normally covered at $100,000, which is low compared to some secured finances (though it's unlikely you'll require more than $100,000 to repay credit card debt).
Trust your finances to a company with experience settling over $250,000,000 in debt since 1999. Contact us at New Era Debt Solutions today.
Loan from Home Equity
Home equity loans are a personal loan used to pull money out of the equity of your mortgage and can be utilized as a form of credit card debt consolidation. The property is used as collateral in this secured loan, meaning that the loan provider may confiscate your home if you decide not to repay the debt. The limit of how much can be taken out with this type of loan is determined by a % of your home equity.
This can be a viable option for debt relief if you do not mind placing your house up for collateral to repay credit card debt.
Home Equity Loan Pros
Generally, these types of credit debt consolidation loans have much longer terms & reduced interest rates when compared to other types of personal loans.
While lenders typically cover home equity loans at 85% of the equity in your home, the sum from this loan may be much larger than that which a standard personal loan may offer to a potential borrower.
A home equity loan may offer you with a large amount of capital that can be used to repay more than just credit card debt.
Home Equity Loan Cons
Your financing is secured by your residence, so if you do not make lending payments, your home may be seized upon.
As a form of credit debt consolidation, home equity finances come with even more fees than personal car loans as well as may have appraisal, application and also handling charges in addition to a source charge.
The first step you should take if you choose this form of credit card debt consolidation is to repay bank card debts with the money you receive from your house equity loan. After that, remain current on your financing repayments so you do not fall behind, risking costs, damage to your credit score and the repossession of your residence.
For how long is the application process? It might take up to a month.
Where to find the best options: You can contrast house equity finances within mins through LendingTree's house equity page.
401k Loan
A 401k loan is used to borrow money from your existing 401k plan to pay off debts. The amount you can obtain from this loan is limited to the lesser of $50,000 or 50% of your balance. After you withdraw the cash, a repayment plan is developed with interest rates associated. You typically have five years to pay off the debt & may be given 10-15 years if the loan is used to buy a house.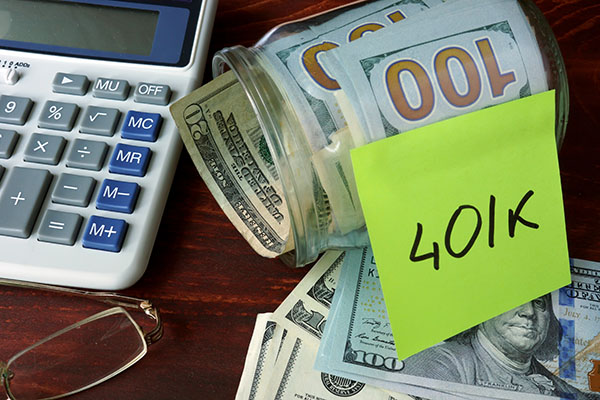 401k Loan Advantages
The interest paid on this type of loan is paid out to yourself rather than a financial institution.
The rates of interest are usually lower than what credit cards charge.
There is no debt check, so this could be a good credit debt consolidation alternative for people with lower credit scores.
401K Loan Disadvantages
If you lose your job, repayment of the loan is typically due in full within 60 days. There may be an additional 10% penalty if the loan is not repaid in full during this time.
You need to stay at your existing job until the finance is paid off in order to avoid the charges stated above.
You may lose out on possible financial investment gains while you still owe money on the loan.
The cash you withdraw from your 401k need to go directly to settling your outstanding debts. After your financial obligations are settled, repayments more than likely will be taken directly from your paychecks until the loan balance has been repaid.
If you are willing to take the risk that you'll still be working at your current job for the entire length of time it takes to repay the loan, then a 401k loan may be the right option for reducing your debts.
Debt Management Plan
A debt management plan (DMP) consolidates your credit card settlements instead of your credit card debt. Rather than making numerous repayments to numerous lenders, you make one repayment to your DMP and your credit history counselor will make use of that payment to pay the financial debt you owe to different credit lending institutions. Additionally, your counselor will try to bargain for reduced interest rates to make repaying the debts easier.
If you struggle to make the minimum payments on your credit card as well as generating a stable revenue, a DMP might be the solution to lower your rates & fees from credit card debt.
Debt Management Plan Pros
Prior to opening up a DMP, a credit counseling session is needed. This helps to analyze your current debts & financial needs in order to provide a debt relief solution that is better matched to your situation.
Debt management plans take an average of 4 or 5 years to complete, which is shorter than it would take if you just made the minimal payments on your credit card debt each month.
Your counselor might discuss much better terms for your debts which may include reduced rates of interest and much less fees.
Debt Management Plan Cons
Most of the time, you won't be able to use your charge card while a DMP is active and also you can't open up new cards. While taking part in a credit card debt consolidation program, creditors may also put on hold or shut your current lines of credit.
There might be a charge for the first credit scores therapy session and also for registration. That's in addition to monthly costs.
How to utilize it successfully: After you complete your credit rating counseling session, stick with the DMP your therapist set up. That means make consistent, on-time payments, and also you can see your charge card financial debt begin to reduce.
Where to locate the most effective options: We advise the not-for-profit, National Foundation for Credit Report Therapy (NFCC), which provides a monetary counseling session that might suggest a DMP gone through an NFCC member firm. The NFCC's strategies typically take 36-60 months to pay off debts. Learn more below.
Contact us at New Era Debt Solutions for experienced debt relief help today.
Debt Consolidation FAQs
Is a consolidation loan good for credit?
The answer to this question depends on your individual circumstances. If you have a lot of high-interest debt, consolidating your debts into one loan with a lower interest rate can save you money in the long run. This can help you pay off your debt more quickly and improve your credit score. However, if you consolidate your debts into one loan with a longer term, you may end up paying more interest over the life of the loan. You should also be aware that consolidating your debts will not automatically improve your credit score. If you have missed payments on your debts, consolidating them into one loan could worsen your credit score. Before taking out a consolidation loan, it's essential to talk to a financial advisor to make sure it's the right decision for you.
How long does debt consolidation stay on your record?
Debt consolidation can be a great way to get your finances back on track. However, it is essential to know that this process can stay on your credit report for up to seven years, or sometimes even sooner. This means that if you are considering consolidating your debt, you should do so with caution. Check your credit report regularly to make sure that the process is not adversely affecting your credit score. If you have any questions, speak to a professional credit counselor who can help you understand the process and its impact on your credit report.
Improving Your Credit Score with Credit Card Debt Consolidation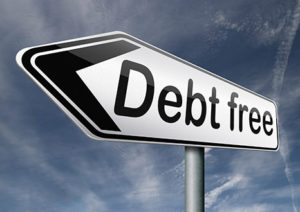 Having a lot of credit card debt affects your credit rating in a negative way and consolidating credit card debt may be a solution for you. If you carry a balance on your cards that is over 25% of your credit limit, you are penalized on your credit rating even if you pay your payments on time. So, credit debt consolidation would be favorable with regard to credit rating if you have high balances on your credit cards and you are unable to pay them down.
If you are smart when consolidating credit card debt, and if you find a very experienced and professional company to help you, it can have a great effect on your credit rating.
Things to Remember When Consolidating Credit Card Debt
When consolidating credit card debt your amount of debt remains the same. There is no reduction in the amount of debt that must be repaid.
If you consolidate your credit card debt, you need to stop using the charge cards. Get rid of them. You can harm your credit score greatly if you continue to use them.
You can also consolidate car loans or personal loans and paying them off will improve your credit rating.
Learn more about debt consolidation with bad credit to discover the best solution for you.
Get Help with Credit Card Debt Consolidation Today
Credit card debt solutions like consolidation can be a big win for your finances if you are disciplined & dedicated to the process of improving your credit. Contact us at New Era Debt Solutions today to find an experienced debt professional to help you with consolidating your credit card debt. Freedom from debt is just a call away at 1-800-527-4421.