Finding the Right Debt Settlement Company for Your Financial Needs
The debt settlement industry, as a whole, started to garner a bad reputation in the years leading up to the great recession of 2008, where some debt settlement companies took advantage of distressed customers and made a bad situation worse.
As a result, the Consumer Financial Protection Bureau (CFPB) was created along with a host of laws that place checks-and-balances on what debt settlement companies can promise consumers and how their services can be billed for.
Many debt relief companies failed during this industry reform. The survivors revised their business strategies to be more helpful and transparent for customers looking for debt settlement services. Under this new regulation structure for the industry, the best debt relief companies flourished while those who did not have their clients' best interests in mind started to run into steeper challenges.
The information on this page will help you select the right professionals to set up & negotiate your debt settlement program and help you stay on track throughout its duration.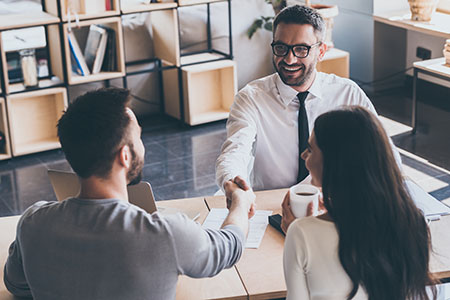 Once you've determined that Debt Settlement is the best debt relief option for your situation, you have another decision to make: Do it yourself or hire a pro. Hiring a debt pro will help to ensure that you are getting the best deal in terms of the settlement amount, but this service does come at a cost.
What Do Debt Settlement Companies Do?
Debt settlement companies negotiate with creditors to establish an acceptable repayment to settle the debt on behalf of the debtor. The goal of debt settlement companies is to reduce the total amount of principal debt owed by the debtor in addition to securing lower interest rates being applied to that debt. This debt relief strategy differs greatly from debt management or debt consolidation, which only work to reduce the interest and do not reduce the principal debt amount.
With many debt settlement programs being able to reduce debt by up to 50%, this form of debt relief can make a world's difference in how much has to be repaid and the time it takes to being debt free.
How to Verify a Debt Settlement Company's Reputation Status
This checklist can be used to help you verify that a debt settlement firm is legitimate. It involves:
Checking with the Consumer Financial Protection Bureau (CFPB) to see if there are complaints against the firm in question and how those complaints were managed. Debt settlement companies that don't take good care of their customers will often have multiple, unhandled complaints on record with the CFPB. The best debt relief companies have few complaints filed against them with the CFPB and have a track record filled with years of successful programs.
Contact your state's attorney general and inquire if any action has been taken by your state against the debt settlement firm in question.
Looking into the business' profile with the Better Business Bureau (BBB) and seeing if there are any complaints and how they were handled. Any debt settlement company that you're considering should have a BBB rating of A or higher. The best debt relief companies tend to have a BBB rating of A+.
Browsing the debt settlement company's reviews from reputable third-party sources such as TrustPilot or TrustLink. These sites often have a slew of customers talking about their experiences with the business & allow you to look at testimonials from past customers.
Black Hat and White Hat Debt Settlement Companies
Unfortunately, the debt settlement industry is littered with black hat debt settlement companies who will take your money and do little or nothing to reduce your debt. These are the firms you want to avoid.
However, the good news is that there are also legitimate, white hat, debt settlement firms – New Era for example – who can provide a valuable service to those looking for an alternative to bankruptcy. Here's how to be sure you select one of the best debt settlement companies to handle your debt relief efforts.
Separating the Reputable Debt Settlement Companies from the Rest
You can pick the good guys from the bad guys by asking 14 important questions. Those questions and the answers you want to hear are detailed in our special report The Truth About Debt Settlement: 14 Questions to Ask and Answer.
What Makes the Best Debt Settlement Companies Different?
Excellent turnaround time. Although it is quite rare, some debt settlement companies can take up to 3-5 years to come to a close. The best settlement companies have a track record of getting the job done in a timely manner because they have established firm relationships with the major financial institutions which help to expedite settlement negotiations. A debt settlement company that does not have these connections may take much longer to bring about the settlement offer.
No upfront fees. As per an FTC ruling effective October 27, 2010, a Debt Settlement company cannot legally charge you any fees unless or until they settle your debt. Period. These types of settlement companies may also be shut down by the government for breaking the law, which creates a risk of losing everything that's been invested in their programs.
No "add-on" fees. Some debt settlement companies try to get around the debt relief laws established after the Great Recession by charging administrative fees, signing fees, consultation fees and various other excuses to siphon extra money from you. The best debt settlement companies, such as New Era, charge only a settlement fee, which you do not pay until your debt is settled.
End-to-end service. Some "debt settlement" companies you may talk with are really only sales groups who will sell or pass your account off to a different company to handle your settlement. This means your financial data is being passed around and the salesperson has no control over – or interest in – how your debt is settled. Look for a debt settlement company such as New Era who will handle your program from beginning to end with an experienced team of debt specialists.
Experienced financial team. With the crash of the sub-prime mortgage industry, many new debt settlement companies headed by prior mortgage industry professionals began to pop up. These newer debt settlement companies do not have nearly the experience or the relationships that lead to your best settlement deals. Look for companies who have been around long enough to amass a solid settlement track record. For example, New Era has been settling debts since 1999, and we've settled more than $250,000,000 in debt for our clients.
If you eliminate any debt settlement company that does not meet the above criteria, you're well on your way to selecting a legitimate debt settlement company that has your best interest at heart. There are other factors that can be important when evaluating a debt settlement firm and you can read all about them here: The Truth About Debt Settlement: 14 Questions to Ask and Answer.
Work with a Trusted Debt Settlement Company Today
Work with one of the best debt relief companies in the industry today. Contact a debt relief expert at New Era Debt Solutions for ideas on how to become debt free.