What is New Era Thankful for?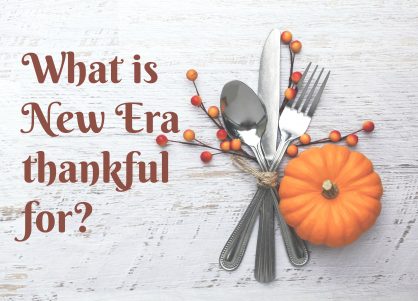 It seems it's that time of year again. The holidays can be a stressful time for people with the pressures of gift-giving and preparing for family get-togethers and parties. Too often we allow the stress and pressure to take over during the holidays and we forget about what is really important: the things we should be grateful for. With the holiday season upon us, we want our clients to know what we are thankful for just in time for Thanksgiving this Thursday.
We are thankful when people put their trust in us to help them with their credit card problems. It can be difficult to accept that you're in debt to begin with, but it can be even more challenging to ask for help on a matter so personal. We value our clients' trust tremendously and we will continue to prove to them why they are in safe hands with New Era.
We are also grateful when we hear back from clients about how their lives have improved without the pressures and burden of credit card debt. We are filled with bliss to know that some of our clients will be spending the holidays with their friends and families without having to worry about their finances. Success is always something to be thankful for, especially when there is hard work, dedication, and sacrifice found behind it.
We're thankful for all of our helpful negotiators and dedicated employees who guide our clients to the road to financial freedom and make business possible. They spend time trying to lower our clients' payments to make paying off their debt easier and shorter and we are certain our clients are thankful for that.
Added to the list we are also thankful for the delicious dinners we are fortunate enough to enjoy this year paired with our closest family members and friends. It is such a blessing to have all of these things and a great reminder to always be thankful for what we do have instead of what we don't.
We know we'll be able to help more people in the coming years and are grateful for the opportunity to do so. Please contact us for a free consultation so we can help you become debt free too. We hope everyone has a wonderful Thanksgiving holiday with many friends and family.
We'd also love to hear from you! Share with us what you're thankful for this year on our Facebook page.