2016 Holiday Spending Tips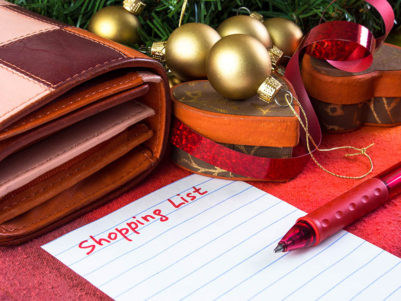 We've guided you on how to make the holidays memorable without blowing your budget, so now we're going to give you our holiday spending tips. We know some of you aren't savvy in the kitchen and aren't ready to bake your way through the gifting season so we're going to help you stay on track with your finances.
Deals, deals, deals!
Look for deals – it's as simple as that. Black Friday and Cyber Monday have passed, but that doesn't mean you won't see deals again until after Christmas. Find a couple of stores where you can purchase the majority of your gifts and see which ones offer the best deals. Sift through your inbox to see if any stores have sent out coupons recently. Warning: some deals aren't as great as they seem. Read the fine print and make sure you understand how much you have to spend to get that free gift or that 50% off.
Make a list…and check it twice!
Who do you have to get gifts for? Make sure to write their names down and check the list a couple of times before beginning your shopping. Do you need to get gifts for all of your coworkers? Maybe not. Review your list a few times and make sure you can afford getting gifts for all of them. This list should include a budget and an estimate for how much you want to spend total and per person. Calculate based on your finances and see where you need to make cuts.
Keep it simple
If you find your holiday gift list too long and you need to make some cuts, keep it simple to make sure no one is forgotten. Holiday spending doesn't have to hurt your wallet and you don't need to be excessive with holiday gift giving. Create a gift with some small things – mason jars full of hot chocolate mix, small bottles of lotion, or a warm scarf. Remember: presentation is everything! Wrapping your gifts with a bow or in a festive holiday bag can add a little something extra to your holiday gifts without costing you a fortune.
Steer clear of store credit cards
They're going to offer you 40% off your purchase if you open their store credit card? What a great deal! Don't do it. Store credit cards show up as hard inquires on your credit report and can harm your credit score. These types of credit cards also make it easier for you to have more impulse purchases because stores make it effortless for you to spend money in offering "deals" all year round.
Have you found yourself burdened by credit card debt or other forms of unsecured financing? New Era Debt Solutions wants to help you become debt free so you can enjoy your next holiday season without financial worry. Contact us today for a free consultation so we can find a plan that works for you and get you on the road to financial freedom.