Make the 2020 Holidays Memorable Without Blowing Your Budget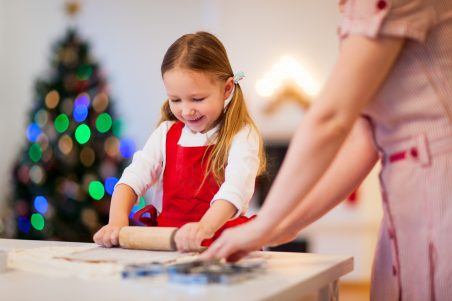 There is no doubt the holidays can seem more stressful than fun if you are trying to stick to a budget. Especially after Black Friday deals that seem to be almost a month long for some retail stores this year. To help reduce some of that stress we are giving you 4 budget friendly holiday tips you can do with your family and friends without overspending and going over your budget.
Bake
Are you savvy in the kitchen? Put your whisks to work and get baking! It's time for holiday treats and some family bonding. Cookie decorating with the kids is always a fun (and tasty) way to get in the holiday spirit. Your famous fudge or chocolate chip cookie recipes are waiting to be gifted to friends and family! Place your holiday treats in a mason jar, top it off with a nice bow, add a card, and voila: a personal holiday gift! You'll save money and avoid stores overflowing with frantic holiday shoppers.
Decorate
Spending time with your family to string lights or make your home a little more festive is a time-honored holiday tradition. What better way to make memories than to have a merry home and some fun with the family? You won't spend any additional money unless you need to buy decorations; it's inexpensive to buy a couple strands of lights to put around the outside of your house, especially if you shop around on low-priced sites like Amazon. You can also take a trip down your local Candy Cane Lane to check out other people's eye-popping holiday displays. What sings holiday more than Christmas carols and hot chocolate while cruising down your very own local North Pole?
Secret Santa
The holidays can be a stressful time of year worrying about how to afford gifts in the first place, but you can't worry about the price until you know what you're getting everyone on your list. Try doing a Secret Santa gift give-away instead. You take the worry out of buying presents for a long list of people. Who doesn't love the suspense of a surprise and waiting to see if Uncle Joe or Aunt Susie picked your name for Secret Santa?
Let It Snow! Let It Snow! Let It Snow!
If you live somewhere that doesn't get snow over the holidays, like New Era's headquarters in California, you can make some – or sing for some, of course! If you're looking for free or reasonably priced snow, you can make paper snowflakes to scatter around your home or visit a local ice skating rink to embrace the chilly holiday season! While you're at it, break out your favorite Christmas carol CD's out or turn up the radio…it's a free way to make memories!
What do you do to make the holidays memorable without blowing your budget? Tell us on Facebook or Instagram. We hope that you and your family have a wonderful holiday season this year. We want to help you become debt free so you can enjoy the holidays without financial burdens.