Watch Out For These 10 Holiday Scams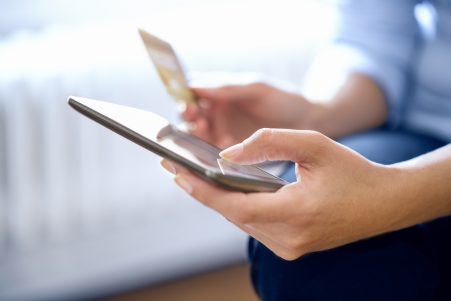 The holiday season may be filling you with cheer; however, the most wonderful time of the year also happens to be the cyber scammer's delight – a time when online hackers and criminals attempt to leverage the deluge of online shopping, hoping to go unnoticed among the onslaught of internet transactions.
Want to enjoy the holidays? Cybersecurity experts say you should be on the lookout for these 10 common scams:
Fake online retailers. A popular scam cybercriminals will use is to create fake websites that trick individuals into believing they are visiting a legitimate site. They may replace letters with numbers, such as a zero for the letter "o" as in Amazon.com. To avoid this ruse, shop only on sites where the padlock symbol appears in the search bar – this indicates the site has taken steps to ensure a secure connection and was issued a certificate of security.
Bogus online deals. Fake coupons, for example, are one fraudulent deal to look out for. While the best case scenario is you don't get the discount, worst case is you may give hackers easy access to sensitive information by clicking on a fake online coupon. To avoid this scam, check the expiration date and avoid coupons not originating directly from the company.
Fake apps and mobile games. Simply put, just don't download apps and mobile games that have any complaints of fraudulent activity. Check the reviews – even for free downloads.
Card skimming. Criminals can easily steal your credit card information by installing a removable device called a card skimmer. Before inserting or swiping your cards at an ATM or gas pump, check to see if the card reader is secure (if it is loose, it may be a skimmer) and the letters, numbers, and colors match the style of the rest of the machine.
Suspicious emails from a friend. Just because an email is from a friend, doesn't mean the links are safe. Criminals may not try to hack you directly, instead, getting to you by infiltrating your contacts' email accounts.
Fake emails or text alerts. Criminals may try to gain access to your passwords or credit card information by sending emails or text alerts that appear to be from a reputable company, such as your bank or government agency. If you did not request the information, delete immediately.
Charity scams. Signs that a charity may be fake include: lack of or refusal to provide detailed information regarding identity and how donation will be used; provides a name strikingly similar to a better know organization; asks for cash or wire transfer; uses high-pressure tactics to get an immediate donation. Your best bet is to donate only to reputable, well-established organizations via a secure connection such as an HTTPS site (the S stands for secure).
Ransomware. Criminals may install malware on your computer that wipes all your data and demand you pay a steep ransom to get your information back. DO NOT pay them. Go to the police if this happens and to prevent the loss of data, you should perform regular backups.
Wi-Fi hacking. If a criminal hacks your Wi-Fi connection, they can gain access to all devices connected to your network. If you suspect your network has been hacked, you can login to your internet router account to check all devices that are accessing or have accessed your Wi-Fi. The best way to prevent intrusion is to keep your Wi-Fi equipment up-to-date. You can also create a list of approved devices allowed to connect to your network.
Fake call centers. Using one of the oldest tricks in the book, scammers may call pretending to be from an attorney's office or collections center and demand payment for past due bills. Before handing out your credit card or bank information, verify these claims with the company to whom you supposedly owe money.
Once your computer is hacked or financial information stolen, cyber criminals can do a lot of damage. While some hackers make numerous insignificant transactions across hundreds or even thousands of credit cards in hopes of going unnoticed, others may be more brazen, causing victims to go deeply in debt.
So, please, protect yourself this holiday season. Be vigilant. Be wary of offers that seem too good to be true and guard your financial information.
For those whose debt is self-inflicted, New Era Debt Solutions may be able to help. New Era is a debt settlement company that helps people dramatically reduce their debt obligation and become debt-free. Since 1999, we've settled over $200 million in debt for our clients. To see if debt settlement is right for you, contact us or fill out the form on this page for your free debt analysis.