Vow to Be Budget-Conscious this Wedding Season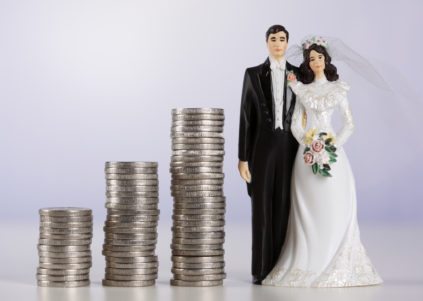 Watching close friends and family members get hitched is a joyous occasion. Who doesn't love love, and having the chance to witness two people declare their devotion to each other?
But perhaps your money situation is so tight that every new engagement announcement you see gives you a sinking feeling in your stomach.
USA Today reports that, on average, wedding guests who are close to the couple getting married spend just over $600 on the festivities, gifts, and traveling expenses. And for members of the wedding party, the numbers are closer to the mid-$700 range.
You should be able to celebrate your friends without having to make big compromises with your bank account. New Era Debt Solutions offers the following ways you can RSVP to weddings (either as a guest or wedding party member) with confidence:
1. Go In as a Group
If you have a group of friends that plan on attending the same wedding as you, consider booking a flight and hotel for a group rate. Many airlines and hotels offer discounts to large groups that book together.
If hotels are too costly, booking an Airbnb may be your next best bet. You're more likely to save if you and your friends split the cost of a multi-room Airbnb for the weekend. This is a great option for both wedding guests as well as bridesmaids and groomsmen.
Also, don't forget about credit card points! Major credit card companies have reward systems that help loyal customers cover the costs of travel and hotels.
2. Hit the Registry Early
Don't get stuck buying the most expensive registry item because you waited until the last minute. By scoping out the registry early, you're more likely to get your pick of the more budget-friendly gift items.
Alternatively, recruit one of your friends to go Dutch on a registry item that's on the higher end of the price range.
3. For the Ladies – Cut Costs on Dress, Hair, and Makeup
If you're a wedding guest, you should opt to buy a dress that you can wear to multiple semi-formal occasions. There's no need to buy several dresses that you'll only wear once.
As for bridesmaids, your friendship with the bride may help you when it comes to talking budget. Offer to help the bride choose bridesmaid dresses that look nice but most importantly, are affordable for all of you. Keep an eye out for bridal store sales.
You can also trim costs by opting to do your own hair and makeup for the big day.
4. For the Guys – Invest in a Staple Outfit
If you suspect you'll be in more than one wedding in the near future, calculate the costs of buying one or two suits that may work for multiple events. This strategy also works for men who anticipate a few wedding invitations and don't want to think too hard about finding the right thing to wear.
5. Just Say No, But Thank You
Sometimes, you just can't say yes to everything. Consider all the weddings you've been invited to and narrow down the ones you feel are the most important ones to attend. If it comes down to choosing between your distant cousin and your college roommate, it's safe to say that your cousin probably won't miss you and may even be relieved by having one less guest to feed.
It's also okay to decline being part of the wedding party. Sit down with the bride or groom to talk it out – thank them for including you, explain your situation, and offer to support them however else you can on their wedding day.
New Era Debt Solutions has settled more than $250,000,000 dollars of debt since 1999 and wants you to be our next success story. If you need assistance achieving financial freedom, contact one of our friendly counselors at New Era Debt Solutions to learn more about finding the debt relief option that best fits your needs and budget. Our counselors are with you every step of the way.