Tips for Staying Green on St. Patrick's Day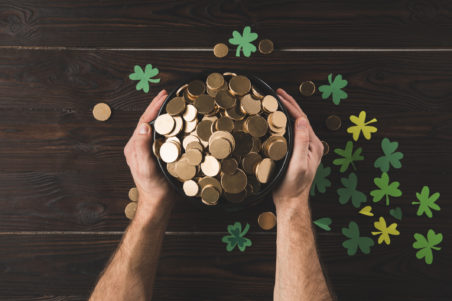 Whether you're Irish or not, most of us will find a reason to wear our best green attire and down a Guinness on March 17.
But celebrating St. Patrick's Day can involve unexpected expenses you didn't budget for if you're not careful. When you're having a good time out with all your friends, it can be easy to lose track of how much you're really spending on food, drink, and fun festivities.
New Era Debt Solutions encourages you to celebrate responsibly, starting with your finances:
Search for Savings
You can often scout out a good deal if you look thoroughly. Maybe you won't be able to find a BOGO deal on corned beef hash (or perhaps you will!) but plenty of restaurants will offer St. Patrick's Day deals in hopes that hungry patrons will flock to their doors. If you're up for non-Irish food, you can still enjoy the day's celebrations with discounted tacos, burgers, and other less than traditional fare. Follow your favorite dining spots on social media to stay updated on their latest deals.
You can also attend free St. Patrick's Day events to save some green. Many cities host special parades or festivals to honor the holiday, most of which are free of charge.
Offer to Chauffeur
Looking to make a quick buck? Drive for Uber or Lyft on St. Patrick's Day. You're bound to come across partiers who don't have a safe way to get home. It's a win-win situation for everyone – you'll help get people home safe and sound while generating some revenue for yourself.
Stay Home and Sit
Another way you can make cash this weekend is by babysitting. You likely have friends who are parents and want a break from the kids for one night. If you don't know anyone personally in need of a sitter, consider signing up for sites like Care.com to put your name and services out there. On nights like St. Patty's, there will be a higher demand for caretakers…which means more moola for you.
Don't discount pet-sitting either. Many pet owners must decline attending fun events to keep their furry friends company. They'll be grateful for your services!
Host a St. Patty's Party
If you're not content with spending the night sitting or driving others around, bring the party to you. A cost-effective way to celebrate St. Patrick's Day (or any other major holiday) is to host a potluck. Have your friends bring traditional Irish food and drinks and enjoy a night of fun and merriment – all for a low price.
New Era Debt Solutions has settled more than $250,000,000 dollars of debt since 1999 and wants you to be our next success story. If you need assistance achieving financial freedom, contact one of our friendly counselors at New Era Debt Solutions to learn more about finding the debt relief option that best fits your needs and budget. Our counselors are with you every step of the way.