Tips and Tricks for Staying Healthy on a Budget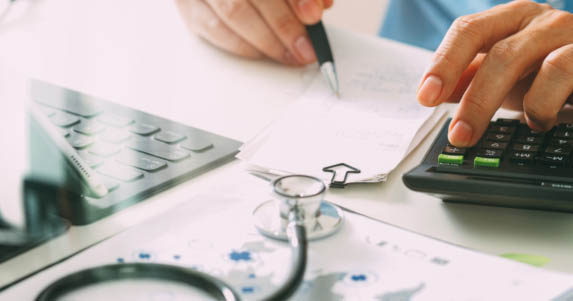 Healthcare expenses are pretty much unavoidable, which is a big reason why so many people worry about paying them.
Recent data from the Centers for Medicare & Medicaid Services and CIA World FactBook says that Americans spent $3.65 trillion on healthcare in 2018. And Health Affairs reports that prices for healthcare goods and services are projected to grow 2.5 percent per year on average.
You may ask yourself how you will ever get out of debt, when something as essential as healthcare is so expensive. New Era Debt Solutions offers these strategies for making healthcare more affordable for yourself and your family:
Check All Your Options Before Buying
Many people are tempted to buy the 'cheapest' healthcare plan with the lowest premium. At first glance, this may seem like the most logical way to keep costs to a minimum. However, the more you pay for premiums, the less you pay in deductibles, and vice versa. If you are in good health, aren't involved in any accidents, and everyone on your plan is generally healthy, a lower premium and higher deductible plan may be a great fit for you.
If this doesn't describe your situation, you may end up dishing out significantly more money. In this case, a higher premium may be worth paying if you visit the hospital more frequently. It is important to shop around and see which healthcare plan best fits your lifestyle.
Save on Medication
Brand name medications can cost an arm and a leg. Ask your doctor if there is a generic, alternative available for your medication. According to Harvard Medical School, taking the non-name brand medication not only saves you money but also provides you with an option that is just as effective as the original. Not to mention, it is estimated that roughly 90% of generic drug copays cost less than $20.
Consider checking with your medical office to see if they offer free medication samples. Often times, doctors will have full-sized samples they are allowed to pass along to patients. Some samples may not be generic, so check in with your doctor to see if it is a safe substitute for the generic version when your sample runs out.
You can also check for discounts at the pharmacy counter or seek out websites that offer savings and codes for your medication. Many chain pharmacies have in-house prescription discounts they can provide. These plans can save you $10 or more per prescription. Pharmacies are getting more comfortable with accepting online discount coupons but not all. Save some time and gas money by calling your pharmacy ahead of time.
Apply for a patient assistance program if you are struggling with the cost of your medications. These programs are offered by drug companies and nonprofit organizations. To qualify, you will need to demonstrate a financial need for assistance.
Avoid the ER for Non-Life-Threatening Issues
Sometimes emergencies happen after office hours. If the issue is not life-threatening, visit an urgent care center instead of the ER. According to Cigna, the average visit to the hospital ER costs $1,757. By contrast, the average visit to urgent care costs $153. An urgent care center can treat you for common conditions such as:
• Earaches and infections
• Minor cuts, sprains, and burns
• Fever and flu symptoms
• Cough, colds, and sore throat
• Animal bites
• Mild asthma
• Urinary tract infections
• Headaches
• Back and joint pain
Use a Healthcare Savings Account (HSA) or A Flexible Spending Account (FSA)
Many employers offer an FSA or HSA. These accounts allow you to set aside pre-tax money for healthcare expenses, which can help you save hundreds of dollars per year. HSAs are owned by you, they earn interest, don't expire, and are transferable. FSAs are owned by the employer and do not earn interest and must be used within the calendar year.
New Era Debt Solutions has settled more than $250,000,000 dollars of debt since 1999 and wants you to be our next success story. If you need assistance achieving financial freedom, contact one of our friendly counselors at New Era Debt Solutions to learn more about finding the debt relief option that best fits your needs and budget. Our counselors are with you every step of the way.