The Cost of Success with New Era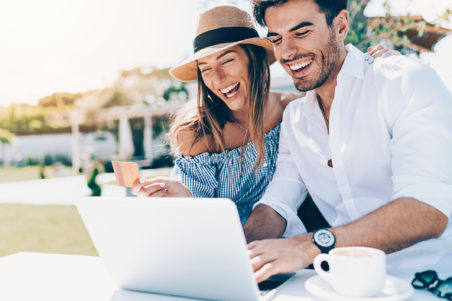 If you've ever witnessed someone else's success story – be it a weight loss journey, a job promotion, or a home renovation project – it can sometimes be hard to believe that you too are just as capable of achieving the same kind of victories.
When it comes to debt relief, it might be even more difficult to think that financial freedom is possible. Perhaps the sheer amount of debt you've accumulated over the past few years makes it hard for you to imagine that there is a light at the end of the tunnel.
At New Era Debt Solutions, we believe in delivering the results we promise from the start so that you can enjoy your own success story.
Why New Era?
Something that we always emphasize at New Era Debt Solutions is our transparency with clients – we believe that no client should have to pay for our services until they start to see debt relief. You read that correctly; we also don't make clients pay any monthly administrative fees or costs for any services not rendered.
You also will likely be able to pay off your debts faster through our program than if you were to go at it alone. On average, New Era clients complete our program in just over two years (versus three or four years with other companies).
People Speak Highly of Us
What if one year or two years from now, you found yourself living a far less stressful life, unburdened by the thought of financial hardship? Think debt relief sounds too good to be true? Here are some testimonials from happy clients we've been able to help, despite their challenges:
"It was very hard to call. I had never needed help in my life…When I did, they were kind and helped me…I'm glad I went through it." – Irene, Engineer
"I have had the pleasure of speaking and working with Alex and Dan at New Era and for the record, they are both true advocates for consumers facing financial trouble. Their performance speaks volumes…These guys are the real deal." – Michael Reilly, CDS Emerge America
"I can't thank you enough for what you guys have done for me. I am finally able to live without the crushing burden of debt! I have just gotten married and now have a great life, all the while rebuilding my credit and spending responsibly." – L. Taipale
"New Era Debt Solutions was an incredible experience! From my first conversation to just now completing the program, every interaction has been professional and customer focused. I successfully settled nearly $75,000 worth of credit card debt. I am now able to move forward without the burden of that debt over my head." – Samantha
"I cannot say enough about New Era and their staff. I would have never gotten back on track without their program. I was always treated with respect and without judgment, as it can be very stressful when you are working with several accounts. The time flew by and I'm truly back on track!" – M. Hairston
Visit our website to see what our other satisfied customers have to say about us.
New Era Debt Solutions has settled more than $250,000,000 dollars of debt since 1999 and wants you to be our next success story. If you need assistance achieving financial freedom, contact one of our friendly counselors at New Era Debt Solutions to learn more about finding the debt relief option that best fits your needs and budget. Our counselors are with you every step of the way.