Putting "Fun" in Financial Planning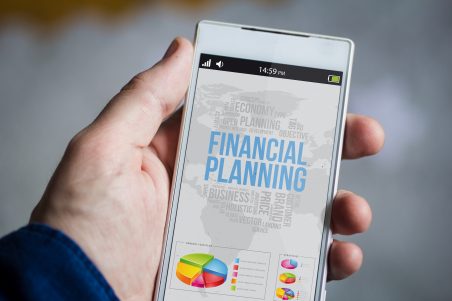 Did we just pair the word "fun" with "financial planning"? You read that right. Most people dread taking the time to sit down and focus on their finances. Some don't want to be reminded of the fact that they are living paycheck-to-paycheck, while others just don't want to spend the time. Financial planning can be time-consuming, but with the explosion of helpful apps designed to assist you in creating a strategy for your finances, it's not as difficult as it may seem. New Era has compiled a list of ways to make financial planning bearable, and maybe even a little – yeah, we're saying it – fun!
How to Get Started with Financial Planning
Goals Are the Key to Successful Financial Planning

We've said it countless times: goals help you reach your destination. Think about why you want to be responsible with your finances. We're assuming it's because you want to ensure you're on track each month and want to climb out of debt if you're in it. Create a list of goals and hold yourself accountable in order to meet each one.
How to make it fun: Set aside some time at the end of your day or on the weekend to design a goal list. Depending on your DIY skills, you can write your list on a white board, make a poster, or grab a chalkboard to write out your goals. If you're really creative, try painting a chalkboard on your wall. Having a physical copy of your goals and checking them off is a great way to hold yourself accountable and may make it easier for you to want to get them done. Make sure to display the list somewhere you pass frequently so you're aware of the things you still need to do.
Don't Do It Alone
There are plenty of free resources available to help you make an effective financial plan including friends and family. Do you know anyone who is in good financial standing that can be of assistance? Ask them for tips and see if they're doing something that could work for you. Use apps to track your spending like Mint or Budgt, which give you the opportunity to see if you are exceeding your budget in different spending categories each month. Some apps, like Mint, connect directly to your account to make it almost effortless to track spending.
How to make it fun: Turn it into a competition with other friends or family members and see who can come up with the best plan. Make sure to keep it friendly!
Save Some Cash
People tend to forget about paper when their lives are dominated by plastic. Saving up extra cash is a crucial step in creating a financial plan.
How to make it fun: Go old school and grab a piggy bank! A jar of some sort will work too, but stick with us on the piggy bank for a second. Wasn't it so gratifying to put that $5 in a cute, little pink pig that held all your money? It symbolizes saving and could boost your cash flow.
Take the Future Into Account
It's pivotal to plan the future, especially if you have kids getting ready to embark on their college journey or need to be thinking about your retirement savings. These expenses are much larger and will need to be planned out ahead of time so make sure to include them in your plan.
How to make it fun: Get your kids to help you and turn it into a family plan. It will give you all the opportunity to work toward something and provide you more time to spend with each other. It can also teach your kids some good financial habits to adopt now and use in the future.
Financial Planning FAQs
How Can Financial Planning Benefit Me?
Financial planning provides organization for your future finances and allows you to better understand how each decision affects your ability to reach your financial goals. Planning out your investments, plotting out how to pay for your child's education, figuring out when you can retire, or laying out a roadmap for how to reduce your total debt may relieve the stress of worrying about these things in the future & create breathing room for adapting to financial hurdles in the future.
How Can I Plan My Financial Future When I Live Check to Check?
One of the first things you should do when planning your finances is create a monthly budget & figure out exactly how much is coming out/going out each month. Account for all of your fixed expenses and always try to leave at least some room for any emergency costs that could arise.
Get Expert Help with Financial Planning at New Era Debt Solutions
If you've been burdened by debt and need help, please call us for a free consultation so we can find a solution that works for you.