Live Freely: Top Freelance Gigs to Invest in Today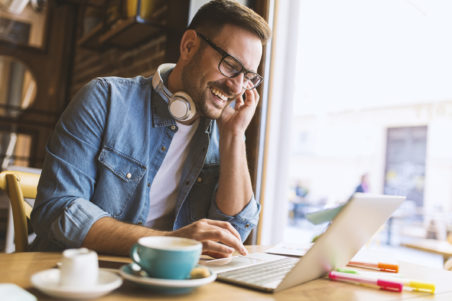 Many people have a dream job but settle for employment that is safe, stable and predictable. In fact, The Balance reports that a survey of 5,000 Americans reported that less than half of the participants said they were satisfied at their jobs – a significant decrease from the 61% of employees who said they were satisfied in 1987.
But what if you could change your outlook by changing your hustle? If you have marketable job skills that you can translate into a paying gig, you'll have the chance to be your own boss, set your own hours, and possibly make more money than you would at a traditional 9-5 job.
New Era Debt Solutions shares some of the top freelancing opportunities that are in high demand:
Computer Programming/Software Development
Be forewarned – this isn't a job anyone can do. Computer programming requires a certain level of technical knowledge and expertise. But if you are fluent in various programming languages and have a solid grasp of coding, you could charge $100 or more an hour for your services.
Web & Graphic Design
It seems like everyone has a website nowadays, be it for their businesses, blogs, or online stores for their pottery. The trick is, not everyone knows how to build a website. This could work out to your advantage if you do know how to build a website from the ground up. As with computer programming, you would be in control of how much you charge potential clients. If your clients were to pay $1,000 for a custom-made website, and if you were to create four of these websites each month, you could make $48,000 a year without having to leave your couch.
The same clients that need website services will also likely want graphic design work done as well. If you have an artistic eye and know a thing or two about creating logos, infographics, brochures, and more, you're on the right track to running your own graphic design operation from home.
Writing
One of the most common types of freelance jobs is writing. Freelance writing gigs can encompass a variety of projects, such as copywriting for websites, blogs, and ads, writing articles for online magazines and other news sources, writing reviews for products, and writing resumes for hopeful job candidates.
You can also tie in your proofreading skills with your knack for writing. Good writers often make good editors, and there are many organizations out there who need your eagle eye to call them out on their grammar and spelling mistakes.
Webinars
Perhaps you've reached the top of the corporate ladder and want to share your knowledge with the world by creating and producing your own how-to webinars. With your expertise on email marketing, motivational speaking, makeup application, or creating architectural designs, you can monetize your talents. You can even use social media ads to boost your profile to bring in more business.
AirBnB
If you're not quite sold on the idea of freelancing full-time, you can still keep your current job while profiting from your property. If your job frequently has you out on business trips, why not offer up your home (or guest home) on sites like AirBnB? If you live in a particularly tourist-centric city like San Francisco or New York, you can make a decent amount of pocket money. For example, if you rent out your home for $250 a night for five nights every month for a year, you could make around $15,000 annually.
New Era Debt Solutions has settled over a quarter of a billion dollars of debt since 1999 and wants you to be our next success story. If you need assistance achieving financial freedom, contact one of our friendly counselors at New Era Debt Solutions to learn more about finding the debt relief option that best fits your needs and budget. Our counselors are with you every step of the way.