Financial Strategies for Families to Follow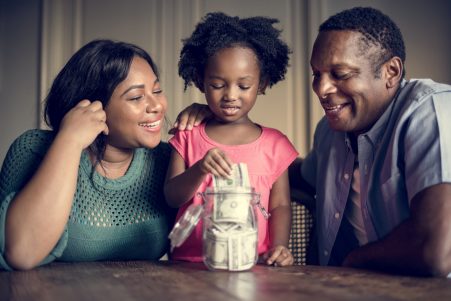 Financial stability doesn't have to be difficult. In fact, it can be an opportunity for you to learn more about the best financial strategies for your family and how you can instill the same good habits in your children. New Era wants to give you our best financial strategies for your family to follow!
Times Have Changed
When it comes to monthly spending and financial planning, there is no one-size-fits-all option. Finances are custom to the family or individual because times have changed over the past several years. Though households have had more opportunities to increase their income, the cost of living continues to rise. It can be difficult to stay on track or get ahead when your money gets spent faster than it enters your account.
Money Magazine reports, "Four out of five households no longer fit the old mom, dad, and their 2.2 kids mold. Time to throw out the one-size-fits-all financial plan and get advice tailored to your needs." Consider that the dated four-member household budget structure no longer works and create a plan based on your specific situation and needs.
Crunch the Numbers
You cannot implement a financial strategy unless you have all the numbers in front of you. Work with your spouse, partner, or a financial professional to determine how you can properly allocate your money every month. How much needs to go toward your monthly bills? Do you have an opportunity to put money in savings? Can you freeze certain expenses for the moment to get ahead on paying your bills? New Era has a compilation of financial tips and other advice you can easily follow on our blog.
Fun for the Family
Make your entire family financially aware of their personal spending habits. Whether you have 12-year-olds or 20-year-olds, you can easily make finances fun. Turn saving money into a game or create an end goal for the entire family! Whoever has the most money saved or the least amount of money spent at the end of the month can win a prize of some sort. Or better yet, make a vacation fund for a family trip. Everyone can contribute their extra dollars to make that dream vacation a reality. It is a great way to save and remind your children of the importance of saving their money.
This also demonstrates the value of a dollar to them. Instead of mindlessly spending their money, they can work towards a goal to understand how long it takes to earn money and how easy it is to spend it. If the reward is worth the work, then they will want to put more energy into it and not waste their money on other purchases!
Prioritize and Plan
Plan for the future, but also plan on keeping your finances confidential. Your kids should not know every financial detail in your household. It is not their job to carry the stress of financial burdens. Prioritize your expenses and come up with a plan so you are not unloading financial information on your children, no matter their age. While you focus on making sure you have enough funds for the future, your kids can also save some extra cash for their futures.
New Era Debt Solutions wants to help you find the road to financial freedom. Contact one of our friendly counselors today for a free consultation to determine the debt reduction option that best fits your needs and budget.