Memphis Debt Settlement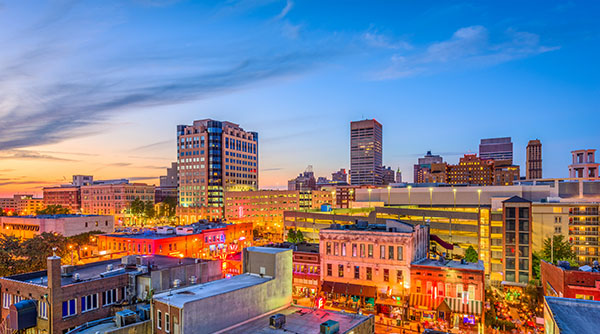 Memphis is considered to be the birthplace of rock 'n' roll for many Americans and is the home to many historical musical talents such as Aretha Franklin, B.B. King, and Al Green. Memphis is the second most populated city in Tennessee, but its lower than average median income has created debt problems for thousands of city residents. If you're a Tennessee resident struggling with debt problems, there are solutions that can ease the burden and help you get back on your feet.
Memphis Debt Statistics & Laws
According to data from 2018, Memphis households have a median income of around $39,000/year and pay around $900 in monthly rent. This income is much lower than averages from around the country and is over $10,000 lower than the average median household income for the rest of Tennessee.
The city of Memphis itself owes over $750,000,000 in debt, leaving each taxpayer a burden of over $3,700 if the residents were made to repay that debt. A large portion of this debt comes from unfunded retirement pensions and healthcare benefits.
There is a 6-year statute of limitations on debt collection in Memphis.
Common Debt Relief Options Used in Memphis, Tennessee
Those who find themselves in trouble with debt in the state of Tennessee have many options for getting relief. Here are some of the most commonly utilized debt programs in the city of Memphis.
Memphis Balance Transfer Credit Cards
A balance transfer card allows you to transfer debt, often without a transfer fee, to a low-interest credit card that remains low interest as long as the debt is repaid within the promotional time limit. Although these cards can be hard to qualify for from a credit standpoint, they can save you substantial amounts on interest for those unsecured debts that have absurdly high-interest rates.
Reducing the interest can make the monthly payments more manageable, creating a road out of what may have seemed like an insurmountable problem of debt. These cards do not work to reduce the principal debt balance as some other forms of debt relief do.
Memphis Debt Management or Credit Counseling Programs
Memphis debt management programs can help those in debt organize their repayment priorities and a counseling agency may be able to get interest rates reduced as well. With these credit counseling plans, a debtor often makes a single monthly payment to the management firm which is then distributed to creditors.
Memphis Debt Consolidation Loans
Debt consolidation is similar to balance transfer in that it allows debtors to save on interest payments by moving the debt to a loan that has much lower interest rates. This type of relief strategy can save huge amounts of capital lost to interest and can lower monthly payments, making things more manageable for those who knee-deep in debt. Consolidation also helps by combining multiple monthly payments into one, making it easier to track and stay on top of.
Since debt consolidation can only offer lower interest rates, it can only offer benefits to debtors who have unsecured debts with high-interest rates.
Debt Settlement or Debt Negotiation in Memphis
Memphis Debt Settlement works to reduce both the interest rates and principal balance of unsecured debts, leaving debtors with less debt to repay and lower rates of interest being charged on those debts. This process can result in over 50% of the principal debt being forgiven when it is done properly. A settlement is a form of debt relief in Memphis that can offer consumers one of the quickest paths to financial freedom other than bankruptcy, but it can also have some negative impacts on your credit score. If a creditor is also already past the point where they can be negotiated with, settlement may no longer be an option.
Filing for Bankruptcy in Memphis
Different types of bankruptcy can provide immediate relief by putting a halt to the debt collection processes, but a debtor may still be responsible for repaying some portion of the forgiven debt based on which type of bankruptcy was filed. Bankruptcy can also be more damaging to your credit profile than any other type of debt relief, but it can be a viable solution for those who have run out of other options.
How Debt Settlement Works in Memphis
Debt settlement involves negotiating with creditors to agree upon a settlement payment for an unsecured debt. A settlement can be significantly lower than the principal balance with up to 60% of the debt being forgiven in best-case scenarios. Once the creditor has received the entire settlement amount in full, the debt is marked as being repaid in your credit history, but there is an asterisk next to that debt stating that it was settled.
Advantages of Using New Era to Settle Your Unsecured Debts in Memphis
No upfront or add-on fees. Companies that charge a debtor for anything before the debt has been settled are breaking the law as debt settlement is a service that can only be legally charged for after the process has been completed. With New Era, you only pay a fee after the debt has been settled.
All-in-one service. Many settlement firms are actually sales groups that pass their clients along to another company to handle negotiations for the settlement. This can lead to multiple parties having access to your financial information and the sales group may have little or no control over how the settlement process turns out in the end. At New Era, we handle cases from beginning to end with a team of debt experts that have years of experience negotiating favorable settlements.
Experienced settlement firm. At New Era Debt Solutions, our team has over 20 years of experience and has settled over $250,000,000 in debt for our clients across the country. Over the years, we've built a history of success because of the relationships we've established with creditors which allow for the best settlement deals to be achieved. Check out our client testimonials to get an idea of what it's like to work with our programs.
Start Your Journey to Freedom from Debt in Memphis Today
If you're in need of debt help in Tennessee, contact New Era for a free analysis with a debt expert. Let us show you how much time and money you can save with the right type of debt relief solution for your financial needs. Contact us at New Era Debt Solutions to figure out your options for debt relief in Memphis.