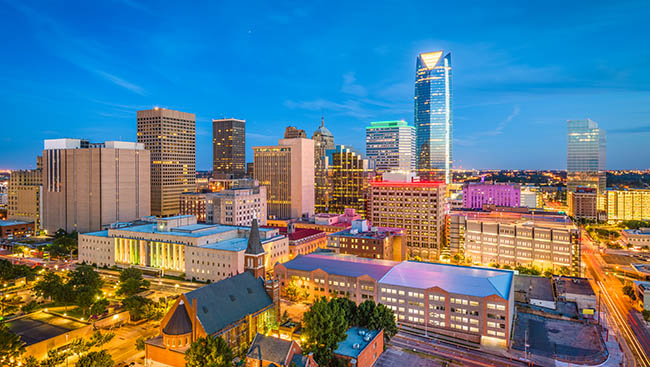 Oklahoma City Debt Settlement
Residents of Oklahoma maintain a good standard of living on average, but there are still many who struggle to keep up with their debts every month. If you're overburdened by repayment plans for credit cards, personal loans, or other unsecured debts, Oklahoma City debt settlement could provide you with relief from the heavy weight of these debts.
Oklahoma City Debt Statistics & Laws
Oklahoma city's residents have excellent average credit scores and lower credit card debt than the national average. The city has an unemployment rate that was on the lower side of 5% in pre-pandemic America, and an above-average home ownership rate upwards of 70%. This would leave each Oklahoma City taxpayer with a debt burden of over $18,000 if they were made responsible for repaying the debt.
Oklahoma City residents hold an average of $5,200 in credit card debt and bring in nearly $50,000 in average household income. In both categories, this is lower than the national average.
In Oklahoma City, the Statute of Limitations are as follows:
Written Contracts: 5 years
Oral Contracts: 3 years
Legal Property Seizures: 5 years
Domestic debt collection judgments: 5 years
Foreign debt collection judgments: 3 years
Common Debt Relief Options Used in Oklahoma City, Oklahoma
Oklahoma City residents can resort to a number of different options to find relief from their debt. Below are 5 of different strategies that debtors commonly employ in Oklahoma.
Balance Transfer Credit Cards in Oklahoma City
With low interest and often zero transfer fees, balance transfer cards can be a great option for reducing the amount lost to interest each month. This form of relief can reduce monthly payments and make things more manageable for debtors who qualify. The downside is that balance transfer cards can have high credit requirements as they pose higher risks to lender and may even lose the promotional interest rate if the debt is not repaid within the agreement window. These cards can be useful for many situations, but always be sure to read the fine print before committing to any form of debt relief.
Oklahoma City Debt Management or Credit Counseling Programs
Credit counseling can help organize the repayment process & help you prioritize your monthly payments. Many of these debt management programs are free, can include lower interest rates, and a consolidated monthly payment process, but a debtor should always be wary of hidden fees and tacked-on administrative services which increase the cost of what would otherwise be seemingly free advice.
Oklahoma City Debt Consolidation Loans
Debt consolidation loans are similar to balance transfer cards in that they allow a debtor to take out cash with a low-interest agreement and use that capital to repay other high interest debts. This can save huge amounts in cash lost to interest while helping a debtor organize their debts into a single monthly payment. The issue with debt consolidation is that it can be difficult to qualify for from a credit standpoint and only offers real benefits to debtors with high interest debts.
Debt Settlement or Debt Negotiation in Oklahoma City
Debt settlement is a is a form of debt relief that can reduce interest rates and the principal debt balance through negotiation with creditors. Settlement can shave years off of the repayment process by reducing a principal debt by over 50%, leaving much less to pay for on top of losing less with lower interest rates. Oklahoma City debt settlement can be a solution for those with negotiable debts, but not all creditors are willing to settle for less. Some creditors may also be past the point of wanting to negotiate a debt, so settlement is not always an option for everyone in debt trouble.
Oklahoma City Bankruptcy

Bankruptcy is often considered to be the last resort option for many in debt trouble, but it may still leave a debtor with some responsibility for repaying the debt. A bankruptcy proceeding can stop all debt collection efforts, but it may also cause significant harm to a debtor's credit profile for years afterward.
How Debt Settlement Works in Oklahoma City
Debt Settlement in Oklahoma City involves working out a deal with creditors to pay off a debt for less than what is owed. For many creditors, settlement is a better alternative to losing the entire debt repayment in a bankruptcy proceeding, but some creditors still believe they can collect on the debt and continue to pursue it. When a creditor agrees to work out a settlement, the payment can be up to 60% lower than principal debt balance in successful case scenarios. As soon as the settlement amount has been repaid in full, the debt is forgiven on your credit history, but there is an asterisk for some years to come noting that the debt was settled.
Advantages of Working with New Era Debt Solutions

No upfront or add-on fees. Charging for any administrative or hidden fees before a settlement has been completed is illegal, but many companies try to disguise these fees as necessary elements of the settlement process. At New Era, we follow the law and only charge a settlement fee after the process has been successfully completed. In other words, if we don't settle, you don't pay.
All-in-one service. Many settlement firms outsource their settlement programs to other firms, resulting in financial information being passed between multiple parties. At New Era, our in-house team of debt relief experts handle cases from start to finish.
Experienced settlement firm. Our firm has been handling settlement cases since 1999, and with over 20 years of experience, we've helped our clients settle over $250,000,000 in debt over the years. New Era Debt Solutions has built a solid track record of successful settlements in many states across the country. Read through our client testimonials to see what we can do for you.
Get Help with Oklahoma City Debt Relief Today

If you're struggling with debt problems in Oklahoma, there are solutions that can help you today. A New Era debt expert can help you figure out the best path for getting back on track. See how much time and money you can save with well-built debt relief strategies in Oklahoma City. Contact us at New Era Debt Solutions for a free debt analysis.