Debt Settlement in Massachusetts
Laws and Statistics on Massachusetts Debt
The state of Massachusetts follows the consumer protection laws established by the Fair Debt Collection Practices Act (FDCPA). For consumers in the state, this means that:
Debt collectors are allowed limited contact with third party agencies regarding the debt.
Debt collectors or creditors cannot call more than twice a week per home, or more often than twice per month for non-homes, regarding collection of each debt.
Creditors and collection agencies cannot make unconsented office visits.
Collectors and creditors cannot suggest that they are lawyers or can give legal advice.
A debt collector or original creditor cannot fail to send the "Notice of Important Rights" in writing within 30 days after establishing contact with a debtor.
Consumers in Massachusetts carry an average credit card debt of around $5,100, just under the national average of $5,200. The average credit score across the state is considered to be "excellent" and comes in at around 740. Unemployment in Massachusetts weighs in at 7%, or about .5% higher than the national average.
Statute of Limitations in Massachusetts
The statute of limitations time limits sets the maximum amount of time that a creditor has to initiate legal action to collect on the debt once it is delinquent. For Massachusetts, the limitations are as follows:
Promissory Notes: 6 Years or 20 Years of signed before a witness
Written Contracts: 6 Years
Oral Agreements: 6 Years
Open Credit Card Accounts: 6 Years
Is Debt Settlement Right for Me?
The Process of Debt Settlement in Massachusetts
Debt Settlement is a negotiation process that involves a working out a payment for less than the balance owed (principal) on an unsecured personal debt account. Settlement in Massachusetts is different from Consolidation or Counseling in the sense that it can reduce the overall balance of debt, not just the interest rates.
By negotiating the balance of debt down, Debt Settlement in Massachusetts can provide a faster means of handling unsecured debts and getting back to even. Many creditors are willing to accept a partial payment that is less than the total balance owed as this is a better alternative than losing the entire debt through a bankruptcy proceeding.
New Era negotiators have years of experience landing awesome settlement deals in Massachusetts, but the offers don't last forever. The most successful debt settlement clients in Massachusetts are ready and willing to respond immediately. Call New Era Debt Solutions today for the best debt settlement in Middlesex County, Worcester County, Suffolk County & more.
These Debts Can Be Included in Debt Settlement
Credit cards
Department store cards
Old repossessions
Signature loans
Personal lines of credit
Old judgments
Other unsecured debts
Private student loans in default
These Debts Do Not Qualify for Settlement in Massachusetts:
Home mortgages
Federal student loans
Car loans
Other secured debts
Credit Union debts
Medical / Hospital bills
Massachusetts Debt Settlement Services by City
Worcester Debt Settlement
Springfield Debt Settlement
Lowell Debt Settlement
Cambridge Debt Settlement
New Bedford Debt Settlement
Brockton Debt Settlement
Quincy Debt Settlement
Lynn Debt Settlement
Fall River Debt Settlement
Be sure to check with your Massachusetts debt counselor for a more exhaustive list of debts.
Consider Your Alternatives for Massachusetts Debt Relief
Below are descriptions of 5 debt relief methods that are commonly used throughout Massachusetts.
1. Continue to make monthly payments.
Making minimum monthly payments may feel like the easiest strategy, but is often the worst strategy for attaining freedom from debt as it tends to be the costliest and lengthiest route.
2. Debt Management Programs or Credit Counseling Plans.
Credit counseling is a debt management program in which you make a single monthly payment to a credit counseling agency who then distributes the payment to creditors on your behalf. Ideally, a lower interest rate is negotiated with creditors so the debt can be paid off more quickly. The downside with credit counseling is that it still requires 100% of the debt plus interest to be repaid. These 3 to 5-year programs have low rates of completion throughout Massachusetts.
3. Take Out A Debt Consolidation Loan.
Debt consolidation involves taking out a lower-interest loan and using that capital to pay off other unsecured loans with higher interest rates. This can leave you with a single monthly payment that is less than what was being previously paid for all your credit cards & other unsecured loans. The interest rates for the debt consolidation loan are the biggest factor that affect the effectiveness of this type of debt relief.
4. Debt Settlement or Debt Negotiation in Massachusetts.
Debt settlement differs from the first two debt relief methods in that the actual principal balance you owe can be reduced through negotiation. Because you end up owing less, settlement can be the faster and least expensive option for debt relief than both debt consolidation and debt counseling.
Looking for the best debt settlement program in Boston, Worcester, or Springfield? Give us a call at 800.527.4421 to get started with an experienced debt settlement firm today.
5. File for Bankruptcy.
Filing for personal bankruptcy may be inevitable for individuals who continuously struggle to pay off their debts. A formal declaration of bankruptcy halts the collection process, relieving the debtor of some or all the unsecured debt, but their credit profile is considerably damaged for years afterward.
Figure Out What's Best for Your Finances
Do you have a legitimate financial hardship condition?
Most debt problems in Massachusetts are the result of a loss of income, divorce, or medical issue. These legitimate financial hardships can happen to anyone through no fault of their own and any one of these can put a household budget in serious trouble.
Debt Settlement system is not a "free ride" for those who don't want to repay their debts. If your finances are in trouble due to a hardship circumstance and you'd prefer to work things out with creditors rather than declare bankruptcy, then Debt Settlement in Massachusetts can provide an honest and ethical form of debt relief.
Are you fully committed to getting back to even?
When it comes to settlement, your level of commitment to staying the course, even when the road gets a little bumpy, is often the most important factor that determines success. For those who are willing to see it through to the end, debt settlement can offer the quickest & cheapest solution to for getting through financial difficulties when compared to any other debt relief option in Massachusetts.
Is a majority of your unsecured debt from credit card accounts?
Most forms of unsecured debt can be reduced through negotiation. Settlement can typically debts such as: signature loans, personal lines of credit, financing contracts, repossession deficiencies, department store cards, miscellaneous bills and more. However, the largest volumes of debt that are relieved through settlement are usually from unsecured credit card accounts; so, if most of your debt load is comprised of credit card debt, you can anticipate good results from the Debt Settlement strategy.
How to Find the Right Massachusetts Debt Settlement Company
By asking these 14 important questions, you can get a good idea of what a debt settlement company's best interests are. It is also a good idea to check with the Better Business Bureau (BBB) to review the company's rating and complaint history with consumers in Massachusetts.
New Era Debt Solutions is rated an A+ with the Better Business Bureau. We've also been helping Massachusetts consumers become debt free for nearly 2 decades. Our team of expert negotiators have settled more than $250,000,000 in debt and worked with thousands of clients from across the United States. But don't just take our word for it; visit our Testimonials page to read or listen to success stories from past clients.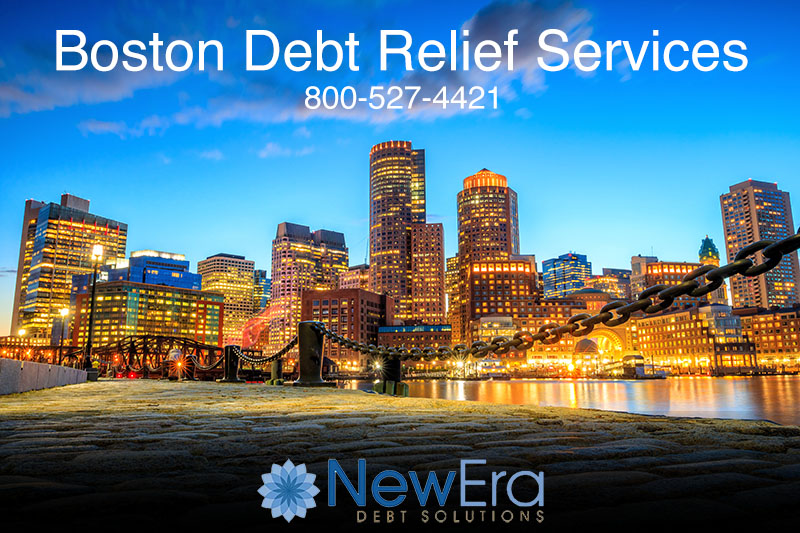 Here's what makes New Era unique:
No Upfront Fees. A Debt Settlement company should never charge you any fees unless or until they settle your debt. As per an FTC ruling effective October 27, 2010, this is the only legal way to charge for debt settlement fees.
No "add-on" fees. Many debt settlement companies attempt to circumvent the law by charging add-on fees related to administration, signing, consultation and other various excuses to try to make a quick buck. Proper debt settlement companies only charge a settlement fee which you do not pay until the debt has been settled.
End-to-end service. Some "debt relief" companies are only sales groups who will sell or pass your account off to a third party to handle your debt relief. This can be bad as your financial information is being passed around to different companies and the sales person has no control over, or even interest in, how the debt is settled in the end. Look for a company such as New Era who will handle your program from beginning to end.
Experience. Many new debt settlement companies headed by prior mortgage industry people suddenly popped up after the crash of the sub-prime mortgage industry in 2008. Most of these firms are not experienced debt settlement companies and lack the relationships that lead to your best settlement deals. When looking for a settlement company, it's important to look for a team that has been around long enough to amass a track record of solid settlements. For example, New Era has been settling debts since 1999, and we've settled more than $250,000,000 in debt for our clients.
Get Started with Massachusetts Debt Relief
Call New Era Debt Solutions for a free debt analysis. Our experienced debt relief team can show you how much time and money you can save with the right company. Contact New Era Debt Solutions to get started.