Debt Settlement in Indiana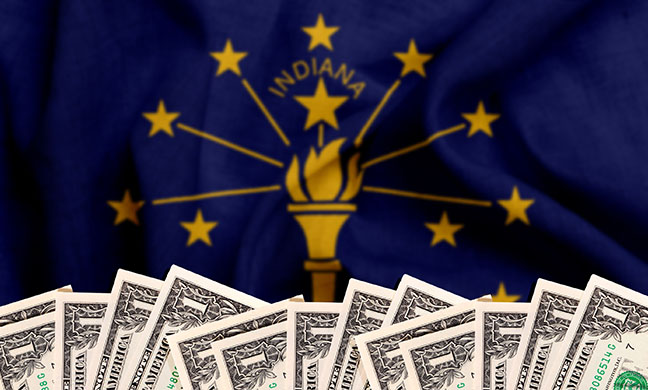 Consider Your Debt Relief Options in Indiana
These are a few of the debt relief methods that debtors make us of in Indiana.
1. Continue Paying the Minimum Amounts Monthly
It may feel like you're heading in the right direction by at least making some kind of payment towards your debts every month, but just making the minimum payment is one of the worst things you can do for your finances in the long run. Not only do you end up paying way more in interest, but the debt stays around for much longer and can have an even worse impact on your credit score when only the minimums are paid.
2. Indiana Credit Counseling or Debt Management
Debt management and credit counseling programs involve working with an agency to learn about debt, organize it, and pay it off. These programs will often have you make a single monthly payment to the agency who then distributes the monthly allotment to creditors. Ideally, the agency may be able to work out reduced interest rates on those debts in the process, but the debtor still ends up paying back the entirety of the debt amount on top of the interest accrued. These programs can take between 3-5 years to complete in Indiana but have low completion rates across the country.
3. Debt Consolidation in Indiana
In a debt consolidation program , the debtor takes out a low-interest loan or credit card account which is then used to pay off other debts that have higher interest rates. By lowering the amount of interest that debts are accruing because of the high rates, consolidation can reduce the amount of monthly payments being made into a single one that's less than what was being paid for before. The downside with debt consolidation is that the low-interest loans & credit cards needed to secure this type of deal can be hard to qualify for and this type of debt relief only works to reduce interest, not principal debt balance.
4. Indiana Debt Settlement / Debt Negotiation
Debt settlement is unique when compared to debt consolidation or counseling in that it can actually reduce the principal debt balance in addition to the interest rates. With less overall debt being owed and lower interest rates being applied to those debts,  debt settlement can generally offer a faster & more affordable alternative to both debt consolidation and debt counseling.
5. Filing for Bankruptcy in Indiana
Bankruptcy can seem like an inevatible option for many debtors who constantly find themselves in financial trouble, but you should always thoroughly consider your other options first. To give some background, when bankruptcy is formally declared, the debtor is cleared of some or all of their unsecured debts and the collections process is brought to a halt. The downside is that filing for bankruptcy can make it almost impossible to borrow anything for years to come, and depending on which type of bankruptcy is filed, it may not clear the debtor of their debts. Debt settlement in Marion County, Lake County, or Allen County can be less damaging options for getting debt relief.
Learn About Indiana Debt Settlement Programs
How Do Settlement Programs Work in Indiana?
Debt Settlement works by negotiating with creditors to work out a deal on repaying your unsecured personal debt accounts. Settlement can reduce the orginal debt balance (principal) by up to 60% in the best cases while additionally providing lower interest rates on top of that. This can drastically reduce the time it takes to repay the debt(s), helping you lose less in interest in the long run & get back to financial freedom quickly.
The majority of creditors & financial establishments are willing to negotiate on the repayment of debts because receiving a reduced payment is a better option than losing all of the entire debt account if the debtor choose to file for bankruptcy instead.
New Era negotiators have decades of experience working with Indiana creditors to land our clients life-changing settlement deals, but the offers don't last forever. The most successful Indiana debt settlement clients are the ones who are willing to get started today. Start down the road to financial freedom today with a personalized Indianapolis debt settlement, Fort Wayne debt settlement, or Evansville debt settlement program today.
Types of Unsecured Debts that Are Able to Be Settled:
Defaulted, private student loans
Unsecured credit card accounts
Unsecured credit lines from department stores
Personal lines of credit
Signature loans
Old repossessions & judgments
Other unsecured debt accounts
Types of Debts that Do Not Qualify for Settlement:
Mortgages for home properties
Student loan accounts with the federal government
Auto loans
Credit union credit lines & debts
Bills from medical clinics, doctors, hospitals
Many other forms of secured debts
For a more exhaustive list of which types of debts that can be settled, check in with your Indiana debt counselor for more information.
Indiana Debt Settlement Services by City
Fort Wayne Debt Settlement
Evansville Debt Settlement
South Bend Debt Settlement
Carmel Debt Settlement
Fishers Debt Settlement
Bloomington Debt Settlement
Hammond Debt Settlement
Gary Debt Settlement
Lafayette Debt Settlement
Figure Out Where Your Finances Currently Stand
Is Your Monthly Budget Troubled by a Legitimate Financial Hardship?
Most debtors in Indiana find themselves in financial trouble because of a loss of income, sudden medical issue, or are going through a divorce/separation. Each of these constitutes a legitimate financial hardship that anyone can find themselves in through no fault of their own, but nonetheless, each of these situations can leave you with little to nothing left after the bills are paid.
If you're in way over your head financially due to a hardship circumstance and bankruptcy is not a good option for you, then Indiana debt settlement may be able to provide the right solution in handling your debts.
Are You Wholeheartedly Committed to Freeing Yourself from Debt?
Debt Settlement is not a debt relief program for the weak of heart. It's an aggressive approach to relief which can present an occasional challenge for debtors. The most important factor for success in a debt settlement program is your level of commitment to staying the course even if the road gets a little bumpy. For those who are willing to stick it out until the deal is made, debt settlement can push you through your financial difficulties more quickly than nearly every other form of debt relief available in Indiana.
Is Your Debt Mainly from Credit Card Accounts?
Debt settlement negotiations can work for many different types of unsecured debts such as miscellaneous bills, financing contracts, repossession deficiencies, lines of credit, signature loans,  department store cards and more. But in our experiences, the biggest settlement discounts tend to come from unsecured credit card debts, so if the majority of your debt is from credit cards, then you can likely expect good results from debt settlement efforts.
How Do I Know if I Can Trust New Era?
The first thing you should do when talking to a settlement company to potentially handle your case is ask them these from the bad guys by asking these 14 important questions. You should always look into the company's profile at the Better Business Bureau (BBB) as well to see what other consumers from Indiana have had to say about working with that firm.
New Era Debt Solutions has an A+ with the BBB and has been a member since 2001. Our team of debt relief experts has helped to clear over $250,000,000 in debt from our clients' names and worked with thousands of clients from across the country since 1999. If you want to learn more about what it's lake to partake in one of our debt relief programs, visit our Testimonials page to see what past clients have to say about our services.
What Makes New Era Different?
End-to-end service. Many "debt settlement companies" that you may come across are really only sales groups in disguise. These firms pick up debtors who are looking for settlement and then sell the account off to another company who actually handles the settlement process. This is bad because your financial information is often passed around to a few different sources during the process, and the sales agent who is your main point of contact has little to no control, or even care, of how well the settlement is handled. With a company like New Era, everything is handled in-house by experienced professional from beginning to end.
No Initial Fees. Some settlement firms try to charge an initial fee before the settlement process has even started. Not only is this unethical, but it's also against the law and should be an immediate red flag not do business with them. On the other hand, New Era only charges for services rendered after the settlement has been finalized & completed.
No "add-on" fees. To get around the settlement fee laws, many settlement firms try to get their pay by charging for extra signing fees, administrative fees, consultation fees and other various schemes to try to pull one over on unaware debtors. The best debt settlement companies, such as New Era, only charge a settlement fee which is paid for after the deal is done.
Experience. When the sub-prime mortgage industry crashed in the United States in the late 2000's, a great deal of bogus debt settlement firms headed by mortgage industry professionals began to pop up. These types of settlement companies lack both the experience and the relationships that create successful settlements. So, it's important to look for companies can show that they've been settling debts successfully for years. New Era, for example, has been around since 1999 and our team is proud to speak about the $250,000,000 in debt that we've settled over the years for our clients.
Get Started
If you're a consumer in Indiana looking for a free analysis of your debt or some ideas on how to get started, get in contact with New Era Debt Solutions today to see how much time and money you can save with the right debt relief program.