Debt Relief in Phoenix
In the sweltering heat and dusty expanses of the Sonoran Desert, the city of Phoenix stands as an oasis. Phoenix is the capital city of the state of Arizona, the seat of Maricopa County. Phoenix was built on the remains of old irrigation canals left behind from the Hohokam civilization that spanned for 135 miles to bring water to the desert landscape of the Salt River Valley. By following the path of these old canals, the Swilling Irrigation and Canal Company was able to bring large amounts of water back to the valley and lay the foundation of the future state capital. The city slowly grew until World War II, when the economy swiftly adapted to help produce supplies for the war effort and accommodate the three air force fields and two large pilot training camps nearby.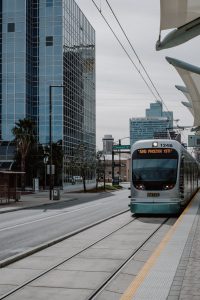 After the war, many who were trained in Phoenix returned with their families in tow and this new pool of able-bodied laborers attracted a wide variety of industries eager to capitalize. This working population, and the new advances in air conditioning developed in the 1950s, spurned on massive additions to the city. By 1979, the city had organized into nine unique urban villages that would go on to grow into the fifteen urban villages of today. Phoenix continues to grow rapidly into the present day. Specifically the central core and downtown Phoenix recently drew renewed interest and have been buzzing with new business.
The 1.5 million people who reside there make Phoenix the fifth most populous city in the United States and the largest state capital by population. The surrounding metropolitan area, Phoenix Metro, supports about 4.7 million people that produce a gross domestic product (GDP) of $242 billion annually. Before World War II, the economy almost entirely depended on the "5Cs" they produced in the region: copper, cattle, climate, cotton, and citrus. With the post-WWII boom, however, the economy diversified first into military and consumer technology and construction to keep up with high demand for new housing better suited for the hot climate. Industry diversified further through the 1990s and 2000s, seeing large rises in real estate, health care, retail, professional services, and tourism. Even the 2008 recession, which severely hurt construction and real estate, was unable to topple the newly diversified market which would meet and exceed its pre-recession GDP by 2012
The median household income in Phoenix was only $57,957 annually, lower than the U.S. median of $61,937, the Phoenix-Mesa-Scottsdale area median of $64,427, and the median in Maricopa County of $65,252 for the same year. The poverty rate is 20.9%, which is markedly higher than the U.S. average of 13.1%. The poverty rate may be related to the toll that the 2008 recession took on the city of Phoenix. While the rest of Arizona trailed the country into recession, Phoenix's reliance on the construction and housing industry propelled them into the crisis head-first. The city that had ranked number 1 in job growth across 28 major markets in 2007 then plummeted in the rankings for three years, landing in the last place spot by 2010. The GDP had already surpassed the pre-recession high by the time that the job market caught up to previous employment numbers in 2015. Phoenix struggled through eight long years of being the first community in and the last community out of the Great Recession.
If you find yourself feeling trapped by lingering debt and ballooning interest payments, it may be best to seek debt relief sooner rather than later. Give New Era Debt Solutions a call at 800.527.4421 for a free consultation.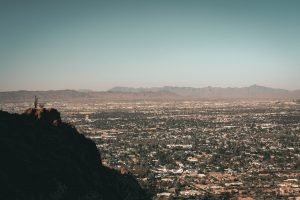 Consider Your Options
Here is a brief description of each of the five main debt relief methods.
Continue making minimum monthly payments
If you can make minimum monthly payments, you may feel you're doing the right thing by continuing that same path. But this just may be your worst strategy. The average credit card debt in Arizona is $6389.00 per person according to 247wallst.com. At a 20% interest rate, that means the average Phoenix resident is tacking on an extra $1277.00 of expenses per month. This "just paying it" approach may work for a time, but what happens in the event of an emergency expense? It only takes one missed payment to inflate a simple debt into a more challenging obstacle. Cost of living expenses are also concerning regarding just making monthly payments. While the rest of Arizona enjoys an 4% lower than average cost of living, Phoenix alone contends with a 4% higher than average cost of living.
Credit Counseling or Debt Management.
Credit counseling is a debt management program in which you make a single monthly payment to a credit counseling agency. In turn, that agency distributes the money to your creditors on your behalf, ideally at lower interest rates so you can pay off the debt faster. You still end up paying back 100% of your debt plus interest, plus any agency fees for their services. These programs are designed to take 3 to 5 years, but many Phoenix residents may find that they have very low completion rates due in part to the funds required.
Debt Consolidation
With debt consolidation, you take out a larger, low-interest loan and use that money to pay off your higher-interest unsecured loans. This would have you make a single monthly payment that is – in theory – lower than what you were paying for all your credit card and other unsecured loans. This is not a guarantee, however, and consolidating debt should be treated very delicately. In some cases, a low-interest loan is still too much of a payment and the "debt consolidation" acts as little more than a balance transfer of your debt to a single lender. Though your situation is now simplified and with lower interest, you owe the same amount of money to another financial institution. The loan itself can be difficult to qualify for as well. Many lenders require a good credit history, proof income, equity to use as collateral (such as home equity), and more.
Debt Settlement or Debt Negotiation in Phoenix
Debt settlement differs from the first two options in that the actual principal balance you owe is negotiated for a reduced amount. Because you reduce the amount owed, debt settlement is generally a faster and less expensive debt relief option compared to debt counseling or debt consolidation. This option also prevents having to file for bankruptcy. If you feel this option is a good fit for you, contact New Era Debt Solutions to learn more.  Our certified debt specialist can help explain how the process works and give a free consultation, give us a call at 800.527.4421 today.
Bankruptcy
For the individual who cannot meet his or her debt obligations, bankruptcy may be inevitable. A formal declaration of bankruptcy stops the creditor collection process, and the debtor no longer owes some or all the unsecured debt. This is obviously a last resort, but debt cases that are not addressed early enough often find their way here. It is important to know all your options for debt relief before settling with a debt relief company. If you know you cannot make just the smallest monthly payment it may be best to consult with a bankruptcy attorney.
Is Debt Settlement Right for You?
Do you have a legitimate financial hardship condition?
The majority of debt problems in Phoenix are likely caused by some combination of loss of income, medical complications, emergency expenses, and sudden divorce or separation. These are legitimate financial hardships that can happen to anyone and can ravage your finances through no fault of your own. If an outside circumstance caused you to fall behind on your payments or caused surprising new expenses, you may have an appropriate financial hardship.
Debt Settlement, however, should not be considered a free pass for people who don't feel like paying their bills. If you are over your head due to a hardship circumstance, and you'd prefer to work things out with your creditors rather than declare bankruptcy, then Debt Settlement can provide an honest and ethical channel for debt relief.
Are you committed to getting out from under your debt?
Debt Settlement is an aggressive approach to debt relief; and, as such, it presents an occasional challenge. The process requires patience and determination to be free of your financial burdens. Though it is true that debt settlement can be difficult, nothing is more difficult than perpetually hauling around a mountain of debt.  For those who are willing to see it through, debt settlement can get you through your financial difficulties faster and at a lower cost than any other debt relief options in Phoenix.
Why Choose New Era Debt Solutions
Trust. Finding a trustworthy company is not always easy, but the differences are obvious if you know what to look for. The first way to make sure you are dealing with professionals is by asking these 14 important questions. It is always a good idea to check with the Better Business Bureau for the company's rating and complaint history, especially with consumers in Phoenix. New Era Debt Solutions works hard to maintain an A+ rating with the Better Business Bureau.
Experience. New Era has been helping Phoenix consumers become debt free since 1999. We've settled more than $250,000,000 in debt and worked with thousands of clients in a variety of situations. You can visit our Testimonials page to read or listen to the stories of real clients in their own words.
No Upfront Fees. A Debt Settlement company should not charge you any fees unless or until they settle your debt. This is not only the most ethical way to do business – per an FTC ruling effective October 27, 2010, it's also the only legal way to charge fees.
No "add-on" fees. Some debt settlement companies try to get around the law by charging administrative fees, signing fees, consultation fees and various other excuses to get upfront payment from you. Honest debt settlement companies, such as New Era, charge a settlement fee which you do not pay until your debt is settled. Always make sure you know what you are being charged for.
End-to-end service. Some "debt settlement" companies you may find are only sales groups who will hand off your accounts to a different company that will negotiate the actual settlement. The problems with this are self-evident. This sales group passes along your information, possibly to multiple companies, and is not invested in your needs or experience once your file is off their desk. Look for a company such as New Era who will handle your program from beginning to end.
Longevity. With the crash of the sub-prime mortgage industry in Phoenix many new debt settlement companies headed by prior mortgage industry people suddenly popped up to take advantage of the situation. As the economy shifts and changes, this will surely happen again. Do not be drawn in by ads full of buzz-word phrases and a polished exterior. These companies simply do not have the experience or the relationships necessary to achieve your best settlement deals. Look for companies like New Era who have been around long enough to amass a solid settlement track record.
Get Started
Consumers in Phoenix can get a FREE analysis of their debt. We will show you how much time and money you can save. Contact New Era Debt Solutions to get started.