5 Reasons Black Friday Is The Worst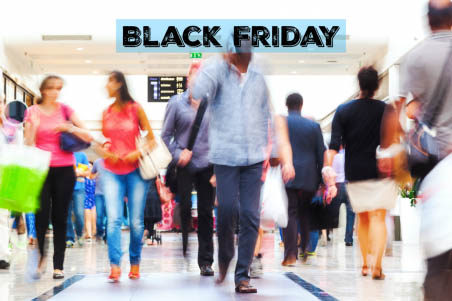 Are you tempted to join the masses on November 24th to scoop up some Black Friday deals? Here are 5 reasons why Black Friday is be bad and why you definitely should not indulge in this Thanksgiving consumer tradition.
Why is Black Friday Bad?
1. Black Friday tricks you into thinking you're saving money…
…But, in reality, you're probably going to spend more than your budget can comfortably handle. And debt is as American as cherry pie: Americans owe a grand total of $784 billion to credit card companies, while the average household carries about $17,000 in combined credit card debt – that amounts to about one-third of household income. What drives a lot of this debt? Retail shopping. During the frenzied holiday shopping season, many are indiscriminately swiping their plastic without realizing just how much debt they're racking up – regret will soon replace thanks as the holiday cheer recedes. The deceptive nature of this spending holiday is one of the main reasons why Black Friday is bad for your finances.
2. Sales happen. All. The. Time.
Another reason why Black Friday is bad is because it is typically not even a unique sale. The most popular items sold during the Black Friday mayhem are Apple iPads – Target, for instance sold an iPad every second during in-store and online sales – and gaming consoles such as the Nintendo Wii, as well as televisions, movies, and toys. Other popular items include household appliances, fitness equipment, tools, and jewelry. Want to know a secret? Black Friday isn't the only time of the year you can grab these luxuries at deeply discounted rates. Sales happen 365 days of the year – they are a common business tool to boost profits or make room for new inventory. Getting the best deal just requires a bit more vigilance: research items in-store and online, compare prices, and sign up for email updates alerting you of sales.
3. Companies are adept at manipulating behavior.
Prior to the post-Thanksgiving shopping holiday, previews of the upcoming deals might "leak". But these aren't leaks at all: companies purposely unveil Black Friday steals (indeed) earlier and earlier to drum up anticipation, to tease consumers with the idea of luxury at a savings. In these advertisements, retailers play up the theme of scarcity and limited time offers, creating a sense of urgency among consumers. "Grab your big-screen TV for next to nothing while supplies last!" What shoppers may not realize is retailers are hoping you also grab all the full-priced accessories to go along with your half-priced goodies.
4. The crowds.
Yet another reason why Black Friday can be bad, and possibly even dangerous for some, is the crowds. Last year, nearly 99 million Americans ventured from the safety of their homes to join the Black Friday hoards. 99 million people. That's almost one-third of the US population out in public, concentrating in the same places. While there have been cases of deadly stampedes and swarms of people breaking through store entrances, crowds are just awful, even in the absence of violence and hysteria. After waiting for hours in line at the entrance, you'll have to navigate through a sea of people and wait for a mind-numbing period of time just to check out. Is it worth it?
5. Retail workers are forced to work on the holidays.
For some workers, national holidays are the only time of the year they can count on spending time with their whole family. Unfortunately, more and more stores have been opening their doors on Thanksgiving Day, a phenomenon dubbed the "Black Friday creep" – some workers will even have to come in the night before to stock the shelves for the deal-seeking crowds. This trend isn't purely the result of business predictions, but is, instead driven by the consumer. By refusing to shop in-store on Black Friday, you can send retailers the message that family celebrations are sacred occasions.
Black Friday is just another day of the year companies promote rampant consumerism – and encourage you to take on debt. Don't buy into these for-profit schemes. Save your money and put it toward meaningful experiences or, if you're like the average American, paying off your debt to secure your financial freedom.
Black Friday FAQs
What are the Disadvantages of Shopping on Black Friday
Many stores use high-pressure sales tactics during Black Friday to get shoppers to buy more than they may have originally planned. This can lead to people spending more money than they intended, and it can be stressful for shoppers who don't like being pushed into decisions.
Another disadvantage is the long lines at stores and checkout counters that often occur on Black Friday. Many customers have reported waiting in line for hours to get into a store or purchase an item. There are also safety concerns associated with Black Friday shopping. Some shoppers have reported being pushed, shoved, and otherwise mistreated by other customers in their rush to get the best deals.
How does Black Friday affect consumers?
The most significant way that Black Friday affects consumers is through their wallets. Many people spend more money than they originally intended to when shopping on this holiday, which can lead to debt and financial stress in the long term. Furthermore, the discounts offered on Black Friday may not be as good as advertised, leading some shoppers to feel like they have been tricked into spending more than they should have.
Get Help with Black Friday Debt Today
If you need help with reducing your credit card debt, please contact New Era Debt Solutions or fill out the form on this page for your free debt analysis. We're a debt settlement company that helps people dramatically reduce their debt obligation to achieve financial independence. Since 1999, we have settled over $200 million in unsecured debt for our clients.