Paying Off Your Debts in the New Year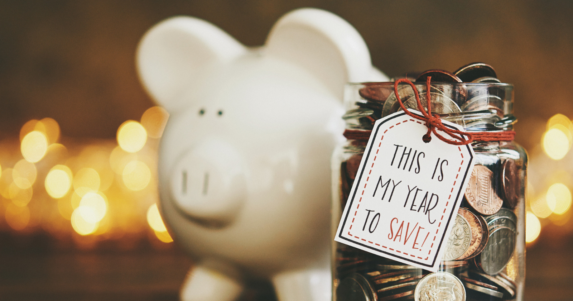 It is the most wonderful time of the year! This month gifts were given, memories were made, and oh my – so much money was spent. It is unfortunately much too easy to get wrapped up in holiday spending. On average, Americans racked up more than $1,000 each in holiday debt at the end of last year. On top of that, 28 percent of shoppers went into the season still paying off debt from 2017′s festivities.
With American debt growing there is no wonder why more than 30% of New Year's resolutions are related to getting out of debt or saving money. However making a New Years resolution and following through with it are two completely different things.  Studies show that 80% of people have dropped their resolutions by February. And they also say that only 8% of people actually achieve their resolutions.
Make your New Year's resolution a reality by using these 5 tips:
Cut Out Useless Expenses
Take some time to go through your past few months of expenses to find places where you might be able to cut back. Maybe you pay for a certain streaming service but never use it. Or maybe you spend more money than you realized on eating out.
Figure out where your money is really going, so that you can make an effort to stop overspending. But cutting back doesn't mean you have to cut everything you love out of your life. You can often make minor cutbacks that will almost be unnoticeable – but they do add up in the long run.
Make Budgeting Fun
Creating a budget is an essential part of getting out of debt and saving money. However, getting into the habit of it is not always an easy adjustment.
Try designing a system that allows you to reward yourself for sticking to your budget. Especially in the first few months of budgetting it is important to set aside some money for something you love. Whether it's getting a new outfit or having a night out with your friends, anything to make budgeting feel rewarding will help you build new habits.
Are you motivated by some friendly competition? Make a group activity of it and set up rewards  — and penalties — for sticking to your budget or failing to do so.
Sell Your Stuff
Chances are you own something that you do not use or need. Selling even a few of your personal items is a great way to make some extra cash to pay off your debts faster. Take some time over the weekend to sit down and go through your things. Odds are that you will come across clothing that no longer fits or items you no longer use that you could part with for some cash.
Post your stuff on online classified sites like:
Craigslist
Poshmark
Facebook
Depop
Thredup
Craigslist and Facebook are great options for selling furniture or difficult to ship items. You can list items for free and receive the entire amount without giving the website any commission. If the item is too large to send someone, make sure you add "pick up only" on your listing.
Poshmark and Depop are great options for selling unwanted clothing and makeup. You can list your items for free, however, when they are sold the website will take a percentage of the sale.
Thredup is a great option if you have clothing that you cannot sell on Poshmark or Depop. They will send you a clothing bag free of charge with a prepaid shipping label. You fill up the bag, send it back, and Thredup will list your clothing on their website. The commission is much smaller than selling the items on your own, but if you were unable to sell those items than it is better than nothing.
Make Some Money on the Side
Selling your stuff is not the only way to make money on the side. There are many options for side gigs that are schedule flexible and will allow you to gain some extra income.
Some of those gigs include:
All of the options above offer extremely flexible schedules which allow you to work only when you want to. Uber and Lyft are great options if you have a car and some free time to drive people after work. You can only be summoned for a job if you turn on the app.
Wag is the perfect choice for dog lovers who have some extra time on their hands. People can hire you through the app to walk their dog when they are at work or unable to get home.
If you have a spare room in your home or a friend you can stay with for a few days, then Airbnb may be for you. It allows people to rent your home or spare room while they are visiting. Check out the listings nearby to get a comparable rate.
Consolidate Your Debt
Consolidating your high-interest debts, such as credit card bills into a single, lower-interest payment, can help you reduce your total debt and reorganize it so you can pay it later.
If you are dealing with a manageable amount of debt and just want to reorganize multiple bills with different interest rates, payments and due dates, debt consolidation is a sound approach you can tackle on your own.
There are two main ways to consolidate debt, both focusing your debt payments into one monthly bill:
Get a 0% interest, balance-transfer credit card: Transfer all your debts onto this card and pay the balance in full during the promotional period.
Get a fixed-rate debt consolidation loan: Use the money from the loan to pay off your debt, then pay back the loan in installments over a set term.
Two additional ways to consolidate debt are taking out a home equity loan or 401(k) loan. Although, these two routes involve risk — to your home or your retirement savings. The best option for you depends on your credit score, as well as your debt-to-income ratio.
New Era Debt Solutions has settled more than $250,000,000 dollars of debt since 1999 and wants you to be our next success story. If you need assistance achieving financial freedom, contact one of our friendly counselors at New Era Debt Solutions to learn more about finding the debt relief option that best fits your needs and budget. Our counselors are with you every step of the way.