How To Stay Motivated While Paying Off Debt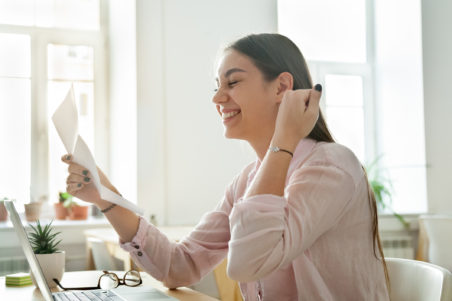 When you have credit cards that haven't maxed out yet, debt doesn't seem so bad. Until one day, you see how much money you have wasted on interest or you go to buy something essential and simply can't afford it. When this realization occurs, you have two options, bury your head in the ground or get debt free.
You may have a spur of motivation when you begin this game plan. But after a while, these endorphins fade and reality sets in. While on your journey to debt freedom, it is only natural to have highs and lows.
Fortunately, New Era Debt Solutions has a few tips on how to stay on track:
Have a Plan
It is easy to lose motivation when you don't have a plan. A plan gives you motivation because when you know what you have to do, all you have to do is do it! If you have more than one debt to handle and you just throw money at each one randomly, not only will it take you longer to pay them off but you'll end up paying more in interest as well.
Two proven, tried-and-true ways to pay off debt are the snowball method and the stacking method.
The debt snowball method involves listing all of your debt according to the amount owed, lowest to highest. You focus on paying off the smallest debts first, as much as you can while paying the minimums on your other debts. The benefit of the snowball method is that if you have one or more relatively small debts, you can pay them off quickly.
The stacking method involves listing all your debts according to interest rate; the highest interest rate first, the second highest next, and so on. The benefit of the stacking method is that it's the method that saves you the most interest.
Fill Up Your Free Time
Do you tend to spend money when you are bored? If you answered yes, stop being bored! Find a free hobby to fill the extra hours in the day. Try killing two birds with one stone and get a side job. Job opportunities like Uber, Lyft, and Wag have extremely flexible schedules. If you are too busy to get a side job, you can spend \ time using apps that earn you money. Some top apps to try are InboxDollar Surveys, Ibotta, Dosh, and Receipt Hog.
InboxDollar Surveys pays you money for playing online games, completing surveys, and reading paid emails. Aside from the money you earn, InboxDollarSurveys offers users a $5 bonus for signing up.
Ibotta is an app that pays you for buying certain items in store or online. Before going to the store, check which items are on the promo list to maximize earnings.
Dosh claims to be the easiest money you have ever made. You can connect your credit card and whenever you make a purchase on that card, you earn cash back. Specific restaurants and stores can earn you up to 10% cash back.
 Receipt Hog is an app that allows users to earn rewards for simply taking photos of all their receipts. Unlike other receipt apps that only accept grocery store receipts, this one pays for all types.
Find a Partner
Find someone to help motivate you to reach your goal, like a sponsor to an addict. Someone who has been in your shoes and can check in on you regularly. Market Watch says 41% of households carry credit card debt averaging $5700. Find someone who beat the statistic to mentor you, or join a social media group.
Make a List
When you start to lose motivation, make a list of all the reasons you are doing it; So you can buy a house, quit your job, or go on vacation. If you are more visual, make a vision board to remind you of the debt-free future. These reasons will remind you that hard times are only temporary, and one day you will have capital.
Start a Spending Journal
Look at your debt and see what caused you to end up there. If it was due to spending too much money at your favorite store, it means you need to stop. Writing down your purchases will remind you how much you have spent. You may think twice about a purchase if you have to write it down and revisit your monthly spending, promoting frugal living.
Get Angry
One of the simplest ways to stay motivated is to hate your debt. Review your bills and add up how much money you are wasting on interest payments every month. Just seeing the money, you are wasting will be enough to light a fire inside of you.
Treat Yourself
From a young age we are trained to work for rewards. There are many ways to treat yourself while paying off debt, you just have to find one that works for you. Try going out for a nice dinner to reward yourself for every $1000 of debt you have paid off. Every 4 lunches you bring to work you can go out once. Every debt you completely pay off, get a new outfit. You will be more determined to pay off what you owe if you get something out of it, just don't go into debt doing it.
Focus on Your Smallest Debt
Progress is a huge motivator for most people and paying off one of your debts is a huge success. The debt snowball method is when you prioritize your debts from the lowest to highest balance. This method is successful because you feel a sense of accomplishment when you pay off your first small debt. These early motivators really make a difference in the long road to becoming debt-free.
New Era Debt Solutions has settled more than $250,000,000 dollars of debt since 1999 and wants you to be our next success story. If you need assistance achieving financial freedom, contact one of our friendly counselors at New Era Debt Solutions to learn more about finding the debt relief option that best fits your needs and budget. Our counselors are with you every step of the way.