Portland Debt Settlement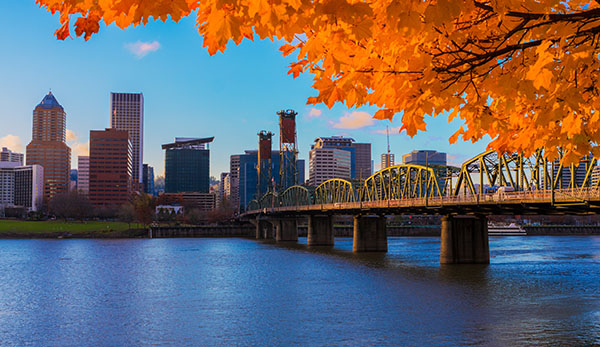 Portland is an expensive place to live. With a median home price of over $420,000, Portland is well above the national average, but the median resident income of $32,500 is not far above the national average. Higher costs with lower income have left thousands in trouble with their unsecured debts, but there are always options for getting relief from the pressure.
Portland Debt Settlement, debt consolidation, and debt management programs can offer debtors a way of clearing their name and getting back on their feet financially.
Portland Debt Statistics & Laws
Residents in Portland maintain an average credit score of around 690 which is higher than the national average. In terms of credit card debt, residents in Portland carry nearly $6,200 on average, also higher than the national average.
However, the Portland city government owes over $4 billion in debt, leaving each taxpayer with a burden of nearly $19,000 if they were made responsible for covering the debt. This is one of worst debt burdens in the country, only being topped by cities such as Philadelphia, Honolulu, Chicago, and New York City.
The Statute of Limitations in Portland, Oregon is up to 6 years for debt collections.
Common Debt Relief Options Used in Portland, Oregon
Those seeking to relieve their debts in Portland have access to many paths to financial freedom. Below are some of the most commonly used debt solutions in Oregon.
Balance Transfer Credit Cards in Portland
A balance transfer cards offer low interest rates for debtors who can repay the debt within the promotional window. These types of cards often have no transfer fees and can help a debtor lose less in interest payments, allowing smaller monthly payments and less burden from the debt. Balance transfer cards can have high credit requirements because they pose more risk for the lender with such low interest rates. These cards can also lose their special interest rate if the debt is not repaid during the promotional window.
Portland Debt Management or Credit Counseling Programs
A credit counseling program offers a guided approach to repaying debts which can help a debtor organize their monthly payment priorities and may be able to help them secure lower interest rates for their debts as well. In a typical debt management program, a monthly payment is made to the debt counseling agency who then provides the payment to creditors. Many debt management programs are free, but debtors should always be on the look out for firms trying to tack on hidden fees for this type of service.
Portland Debt Consolidation Loans
Debt consolidation allows a debtor to pay off higher-interest unsecured debts and save on interest in the long run. Consolidation loans have low interest rates that can help reduce the extra burden of interest substantially and organize the debt repayment process by combining many or all of a debtor's monthly payments into a single one. The main issue with securing a debt consolidation loan can be the steep credit requirements.
Debt Settlement or Debt Negotiation in Portland
Although we no longer offer debt settlement services throughout Oregon, this is a breakdown of how our debt negotiation process works when enrolled in a settlement program at New Era.
Portland Debt Settlement is a form of debt relief that uses negotiation to reduce the principal balance of unsecured debts and lower the interest rates. Settlement is unique from most other forms of debt relief in that it can reduce the principal balance of debt by over 50%, leaving a debtor with a much smaller sum of debt to repay. This is why debt settlement can be one of the quickest paths to financial freedom, but it also carries some risk.
If a creditor is no longer willing to negotiate the repayment of a debt, settlement may no longer be a viable option for relieving that debt. It is always a good idea to consult a debt expert before making any decisions on which method of debt relief is right for you.
Filing for Bankruptcy in Portland
When a debtor files for bankruptcy in Oregon, it puts an immediate stop to debt collection processes, but they may still be responsible for repaying some or all of the debt based on which type of bankruptcy is filed. Bankruptcy can be more damaging to your credit profile than settlement, but it can be a viable option for those who have little no other options.
How Debt Settlement Works in Portland
Experienced debt settlement firms have well-established connections with creditors from all around the country. This can lead to favorable settlement deals for the debtor where up to 60% the principal debt can disappear in the best-case scenarios. Once the repayment has been received in full, a small portion of the forgiven debt is paid to the settlement company as a fee for their negotiation services. Settlement does clear debt from your credit history, but it does leave an asterisk by the debt noting that it was settled.
Advantages of Working with New Era Debt Solutions

All-in-one service. Unlike many other debt relief firms who pass their clients off to another firm to handle the negotiations, we handle cases from beginning to end at New Era with a team of debt experts that have years of experience working providing debt relief.
No upfront or add-on fees. Debt settlement is a service that cannot be legally charged for until the service has been completed. Many settlement agencies try to illegally bypass this law with extraneous hidden fees or administrative fees. At New Era, the settlement fee is charged if and only when the debt is closed and has been fully settled.
Experienced settlement firm. Our team of settlement experts at New Era Debt Solutions has over 2 decades worth of experience negotiating debts across the U.S. and have cleared more than $250,000,000 in debt for our clients so far. We've established a solid history of successful settlement deals because of our ability to effectively communicate with creditors of all kinds. Check out our client testimonials to see what past clients have had to say about working with our debt relief programs.