Charlotte Debt Settlement
If your finances are burdened by a heavy load of unsecured debt in Charlotte, North Carolina, then you may be a prime candidate for a debt relief program. Depending on which types of debts you owe and to which creditors they are owed to, debt settlement could the best option in helping you become debt free. Instead of filing for bankruptcy, you may be able to get a majority of your unsecured debts reduced with an experienced settlement company.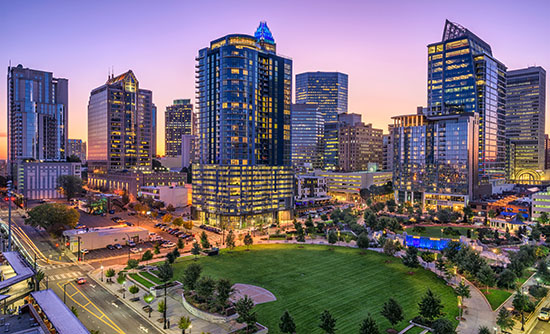 Charlotte Debt Statistics
North Carolina residents carry an average of $6,200 in credit card debt and have 3 credit card accounts on average. This is slightly lower than the U.S. national average of $6,400 credit card. The average credit score in North Carolina is around 660, also below the national average. The cost of living throughout the state is close to 10% less than the national average. When it comes to student loans, borrowers owe an average of around $36,000 in North Carolina.
The average credit card debt in Charlotte comes in a little higher at around $6,300, still lower than the national average.
Different Methods of Debt Relief in Charlotte and North Carolina
There are a variety of different paths of debt relief open to citizens residing in Charlotte, North Carolina. Below are a few of the options available to help North Carolina residents attain freedom from their debts.
Charlotte Balance Transfer Cards
Balance transfer cards are low-interest credit card accounts that allow a debtor to transfer their balance from high interest unsecured debts for little no cost and then pay it off to save money on interest payments. However, these cards come with a couple of key disadvantages for debtors. First, if the transfer card balance is not paid off by the expiration of the promotional window, then the interest rate bounces back to being a high number. Secondly, balance transfer cards can come with a high credit score requirement which many debtors seeking relief from their debts may not have.
Debt Management or Credit Counseling Program in North Carolina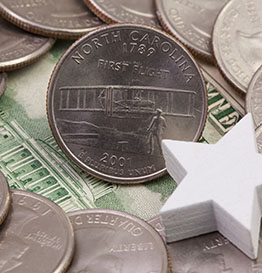 Credit counseling is an often-free method of debt relief that involves working with a debt management company to organize debts and work to create a plan to tackle them. Debtors should be careful of hidden fees with these types of programs as they are not uncommon.
With this form of debt relief, a credit counseling agency may be able to negotiate lower interest rates for unsecured debts. This can make it easier for a debtor to keep up with their monthly payments, but unlike some of the other debt relief methods, debt management does not reduce the principal debt balance.
North Carolina Debt Consolidation Loans
Debt consolidation loans in North Carolina can reduce the amount of interest a debtor is paying for their debts. This is done by taking out a loan with a low-interest rate and then using the capital to pay off other unsecured debts which have a higher interest rate. This can be a much better alternative to making minimum payments to pay off a debt, but these types of loans can also be difficult to qualify for and do not work to reduce the principal debt balance either.
Charlotte Debt Settlement or Debt Negotiation
Charlotte Debt Settlement programs emphasize reducing the principal debt balance in addition to the interest rate. These programs involve negotiating with creditors to strike a deal which could result in a 25-60% reduction of the overall balance of debt and lower interest rates. This method of debt relief can be one of the quickest paths to attaining freedom from unsecured debt, but is also paired with some level of risk.
The most effective debt negotiators leverage well-developed relationships with creditors to get their clients the biggest discounts in the industry. The disadvantages to settlement are that these programs can be more damaging to your credit than other forms of debt relief, but not as much as bankruptcy, and that there can be a risk of creditors filing lawsuits for nonpayment.
Filing for Bankruptcy in Charlotte, North Carolina
Almost no one wants to file for bankruptcy, but if creditors are past the point where a settlement can be negotiated, it may be one of the only options for clearing debt from your name. Bankruptcy stops the collection process immediately, but a debtor may still be held responsible for repaying a portion of their debt depending on the type of bankruptcy that is filed. This process can also create significant damage to a debtor's credit profile for years to come.
How Debt Settlement Works in Charlotte, North Carolina
Charlotte debt negotiation is a process that is often done by a settlement firm on behalf of the debtor. The debt relief agency will reach out to creditors to see if a deal can be made to reduce the debt principal and the interest rates. After a deal is struck, the agency will often pay out the deal, and the debtor pays them back over time. A percentage of the forgiven debt is paid out to settlement firm as payment for their negotiation services which is collected after the settlement is complete.
This form of debt relief is effective because many creditors would rather be paid a portion of what they're owed rather than getting nothing back from a bankruptcy proceeding.

Benefits of Negotiating Debt in Charlotte, North Carolina with New Era Debt Solutions
No upfront or add-on fees. Clients of New Era Debt Solutions are not charged anything other than a settlement fee, which is not charged until the debt is settled. This is the only legal way to charge for Charlotte debt settlement services, and any company charging upfront settlement fees, whether they're administrative or otherwise, is breaking the law.
All-in-one service. New Era Debt Solutions is a settlement firm through and through. We don't offer our services to clients and then hand their account off to other firms, our in-house team of expert debt negotiations handles the case from start to finish.
Experienced settlement firm. New Era has settled over $250,000,000 in the two decades we've been helping clients settle their debts. We have developed solid channels of communication with creditors all across the United States and have built a track record of success in the industry. Our BBB rating is an A+, and we have many client testimonials from past accounts that can give you an idea of what it's like to work with one of the best settlement firms in the nation.
Start Your Journey to Freedom from Debt in Charlotte, North Carolina Today
Carrying a large burden of debt has a huge negative impact on your relationships, your wallet, and even your health. Taking the time to explore which options are available to you could change the path of your financial future for the better.
If you're struggling with debt in the Charlotte are, then we encourage you to speak with a debt relief expert who can help you figure out the best option for your situation. Contact us at New Era Debt Solutions to get started today.