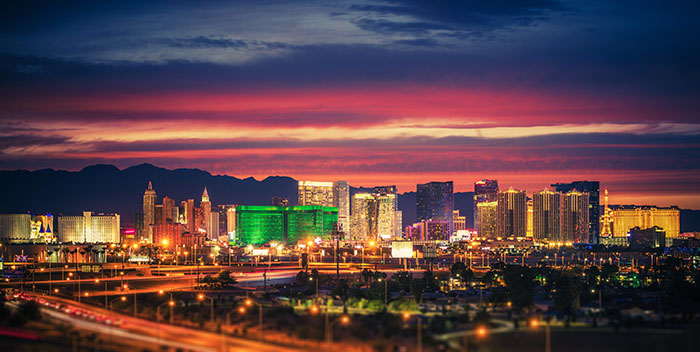 Las Vegas Debt Settlement
Las Vegas is a popular tourist location, but for those who live there, a high cost of living, high unemployment, and a low average wage have left many residents of "Sin City" with more debt than they can handle.
If you're struggling to keep up with your monthly payments, Las Vegas debt settlement could be the solution that eases your financial burden.
Las Vegas Debt Statistics & Laws
A decade ago, Las Vegas residents had some of the lowest average credit in the country. In 2020, the residents of Nevada owe over $7.5 billion in credit card debt collectively, making it one of the worst states in America for this type of debt. Unemployment was also the highest of any state in America, pre-pandemic, at just over 9%. Average income in the state is less than $48,000, lower than the national average and paling in comparison to the expensive cost of living in Las Vegas.
The Statute of Limitations in Las Vegas is 3 years for promissory notes, 4 years for verbal contracts and oral agreements, and 6 years for written contracts.
Common Debt Relief Options Used in Las Vegas, Nevada
Those seeking Las Vegas debt relief have a number of options to choose from. Below are some of the more commonly used debt relief programs in Nevada.
Balance Transfer Credit Cards in Las Vegas
Balance transfer cards offer low-interest rates and often have no transfer fees. These cards act as a personal loan that's used to pay off debts with higher interest rates, saving a debtor on interest during the repayment process. This can help reduce monthly payments, but these types of cards can have steep credit requirements and can lose the promotional low-interest rate if the debt is not repaid within the agreed-upon window of time.
Las Vegas Debt Management or Credit Counseling Programs
Debt management programs are a method debt relief of that can involve working with a counseling agency to organize & get control of debt. A credit counseling plan could potentially offer a debtor lower interest rates and a consolidated monthly payment, but this is not always the case. Many debt management plans are also free, but debtors should always be on the lookout for hidden fees.
Las Vegas Debt Consolidation Loans
Debt consolidation can reduce the amount lost in interest and decrease the number of different monthly payments that a debtor has to make by combining them into a single payment. This involves taking out a low-interest loan, and using that cash to pay off other debts that have higher interest rates. What's left is a single monthly payment with less lost in interest.
Consolidation is most effective for those with high-interest rate debts, but the loan's interest has to be lower to even offer benefit in the first place, so it's not always beneficial for all situations. Low-interest consolidation loans can also be hard to qualify for because they pose a higher risk to lenders in the case of a borrower defaulting on the loan.
Debt Settlement or Debt Negotiation in Las Vegas
Debt Settlement is a debt relief strategy that can reduce both the interest rate and the principal debt balance through negotiation. Successful settlements can shave over 50% off of the initial debt balance, reducing the overall amount paid to interest in the process as the interest is based on the principal balance. Settlement can be a quick path back to financial freedom, but there is also some risk involved for the debtor.
When a debtor is no longer willing to negotiate the repayment of a debt, settlement may no longer be in the cards, but a debt expert can help you determine which form of debt relief is best for your situation.
Filing for Bankruptcy in Las Vegas
A bankruptcy proceeding may be able to stop the debt collections process and forgive debts, but it may also cause substantial damage to one's credit history for years to come and may still leave them with some responsibility for repaying the debt. Bankruptcy should be the last resort option for those seeking debt relief, but it can be a viable option for those with debts that can no longer be negotiated.
How Debt Settlement Works in Las Vegas
Debt settlement is a form of negotiation that focuses on reducing the interest rate and principal balance of an unsecured debt. This process relies on a settlement firm's well-established connections with various creditors and expert negotiation skills which can result in settlement offers being up to 60% lower than the principal debt balance. The debt is considered to be repaid in full when the full settlement amount has been repaid, but it should be known that settlement does leave a mark on that debt in your credit history noting that the debt was not repaid normally.
Advantages of Using New Era to Settle Your Unsecured Debts in Las Vegas
No upfront or add-on fees. Many debt relief firms try to charge their client's hidden fees for administration during the settlement process, but this is actually illegal. Settlement is a service that can only be charged after the settlement deal has been completed. At New Era, we only charge a settlement fee, as required by law, after the settlement is complete.
All-in-one service. After the crash in 2008, many real estate groups started offering debt settlement services and flooded the market with cheap settlement services that accomplished very little. The problem was these "firms" were actually just sales groups that sold the services and then handed off the accounts to other firms to actually handle the settlement. Not only did this lead to client's financial information being handed over to multiple parties by these companies, but trust in the industry was reduced as a whole due to the rise in debt relief scams that became so prevalent during this time. When working with New Era, your financial information is safer as it handled in-house from beginning to end.
Experienced settlement firm. With over 20 years of experience in the debt settlement industry, New Era has helped thousands of clients settle over $250,000,000 in total debt across the country. We've built a history of successful settlements and can help you change your financial future today. Browse our client testimonials to get more information on what it's like to work with a real settlement company.
Las Vegas Debt Relief is Just a Call Away

Debt relief solutions are always available for those in need. Whether you're in Las Vegas or Reno, there are options that can help you get your finances back on track. If you're looking to speak to an expert in debt relief about your financial situation, contact New Era Debt Solutions today for a free consultation. See how much time and money you can save with a well-built debt relief strategy. Contact us at New Era Debt Solutions today to get help with debt relief in Las Vegas.