Debt Relief Options in Chicago
The city of Chicago and the people who make the city their home are among the most determined and resilient in the world. In the modern day, Chicago is the third-most-populous city in the United States and sits at the seat of Cook County, the second-most-populous county. The Chicago metropolitan area, often referred to as "Chicagoland," is the third-most-populous metropolitan area in the U.S at almost 10 million hard-working people. However, the international economic cornerstone of today was not built overnight. In a garden on the shores of Lake Michigan, in the year 1833, 200 people started a modest town. Four years later, that town was incorporated as the City of Chicago and suddenly became the fastest-growing city in the entire world. When the Great Chicago Fire of 1871 destroyed a huge portion of the mostly wood-built city and erased thirty years of construction, the population came back bigger and better. The locals rebuilt so well that they set a new global standard in the use of steel and stone and even yielded the world's first skyscraper in 1885. Through plague, two world wars, Prohibition-era crime, the Great Depression, and much more, Chicago has nonetheless continued to grow and flourish as a model American city.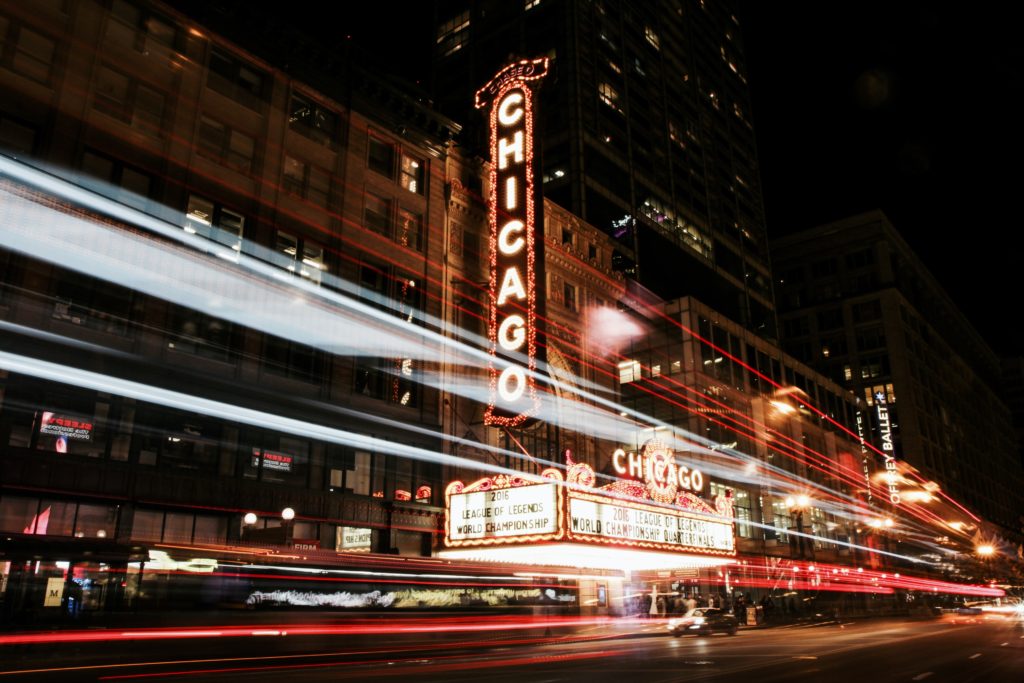 Chicago is a very distinguished and unique center for commerce. Recently, the city has been recognized for the huge number of new and expanding corporate facilities; a highly uncommon boast for an already established and powerful economy. The economy of Chicago is also strikingly diverse and resilient; it is considered the most balanced economy in the United States today, with no more that 14% of the labor force employed by any one industry. A labor pool of 4.63 million workers have kept the wheels of the city turning and have propelled every industry from the Chicago Stock Exchange, to manufacturing, to retail, to pharmaceuticals, to food, and even convention hosting. Chicago is also very popular as a corporate headquarters location; 12 Fortune Global 500, 17 Financial Times 500 companies, and even three Dow 30 companies have made their home there. Chicago has a long tradition of quality higher education as well, and the post-graduate offerings are some of the best available in the nation. Web startup companies also pop-up frequently and even occasionally succeed, mostly relying on the thousands of gifted students attending and graduating from the multitude of prestigious universities. Even the minimum wage for non-tipped employees, $13/hr. set to reach $15/hr. by 2021, is among the highest in the nation. Yet, the median household income in Chicago is only $57,238 annually, not a very flattering number next to the U.S. median annual income of $61,937 or even the Illinois state annual median of $65,030 all for 2018. Well, as you already know, life is not so easy as it sounds in Chicago.
The Chicago lifestyle can be expensive and unforgiving; and when it is, debt and poverty are moments behind. At a glance, the poverty rate in the city is alarming at 20.6% of Chicago residents living below the poverty line, compared to only 13.1% in the United States at large. Many factors attribute to high poverty rates, but the most visible pressure that can contribute to financial struggles is cost of living. Small charges build up quickly on a limited budget; and sales tax, utilities, food, and transportation can all take gradually larger bites out of a paycheck until you realize there is almost nothing left. Housing costs are one particular expense that have inflated to a median property value of $271,600 in Chicago comparted to $193,500 in the U.S. and $179,700 in the state of Illinois overall. If that price-tag was not prohibitive enough, since only 43% of units are even owner-occupied, it is more common to be renting at a median gross rent of $1077.00 per month with no path to ownership easily apparent. In desperation, it might make sense to cover costs with a loan or credit card and slowly pay it off. However, when the unexpected occurs and sets them behind too many payments, many people do not even know where to begin looking for debt relief.
If you find yourself feeling trapped by lingering debt and ballooning interest payments, it may be best to seek debt relief sooner rather than later and give New Era Debt Solutions a call at 800.527.4421 for a free consultation.
Consider Your Options
Here is a brief description of each of the five main debt relief methods.
Continue making minimum monthly payments.
If you can make minimum monthly payments, you may feel you're doing the right thing by continuing that same path. But this just may be your worst strategy. The average credit card debt in Illinois is $6410.00 per person according to 247wallst.com. At a 20% interest rate, that means the average Chicago resident is tacking on an extra $1282.00 of expenses per month. That is more than the average rent payment in Chicago. This "just paying it" approach may work for a time, but what happens in the event of an emergency expense? It only takes one missed payment to inflate a simple debt into a more challenging obstacle.
Credit Counseling or Debt Management.
Credit counseling is a debt management program in which you make a single monthly payment to a credit counseling agency. In turn, that agency distributes the money to your creditors on your behalf, ideally at lower interest rates so you can pay off the debt faster. You still end up paying back 100% of your debt plus interest, but now you owe the agency a fee for their services as well. These programs are designed to take 3 to 5 years, but many Chicago residents may find that they have very low completion rates due in part to the funds required.
Debt Consolidation.
With debt consolidation, you take out a larger, low-interest loan and use that money to pay off your higher-interest unsecured loans. This would have you make a single monthly payment that is – in theory – lower than what you were paying for all your credit card and other unsecured loans. This is not a guarantee, however, and consolidating debt should be treated very delicately. In some cases, a low-interest loan is still too much of a payment and the "debt consolidation" acts as little more than a balance transfer of your debt to a single lender. Though your situation is now simplified and with lower interest, you owe the same amount of money to another financial institution. The loan itself can be difficult to qualify for as well. Many lenders require a good credit history, proof income, equity to use as collateral (such as home equity), and more.
Debt Settlement or Debt Negotiation in Chicago.
Debt settlement differs from the first two options in that the actual principal balance you owe is negotiated downward. Because you end up owing less, debt settlement is generally a faster and less expensive debt relief option than either debt counseling or debt consolidation and prevents having to file for bankruptcy. This is what New Era Debt Solutions does for you. If you would like to learn more about how the process works and get a free consultation, give us a call at 800.527.4421 today.
Bankruptcy.
For the individual who cannot meet his or her debt obligations, bankruptcy may be inevitable. A formal declaration of bankruptcy stops the creditor collection process, and the debtor no longer owes some or all the unsecured debt. This is obviously a last resort, but debt cases that are not addressed early enough often find their way here. A wave of bankruptcies seems inevitable with the changes brought about by COVID-19, and underprivileged Chicago residents are in even more financial danger than most. Judging by the aftermath of the 2008 recession, many will never be offered the option of Chapter 7 bankruptcy, and many more who become locked into Chapter 13 bankruptcy agreements by predatory law firms will never be able to complete the payments required.
What Is Debt Settlement?
How It Works

In contrast to a debt management company (which merely manages your finances) or a debt consolidation company (which will offer a loan that you will still need to pay in full), Debt Settlement works by negotiating a payment for less than the principal (balance owed) on your unsecured personal debt accounts. By negotiating on the balance itself, Debt Settlement can provide much faster means for people living in Chicago to pay debts that would otherwise be unmanageable.
Most creditors are willing to accept payments of significantly less than the balance owed to close out an account, rather than lose the entire amount in a bankruptcy proceeding. New Era negotiators are experts at getting the best possible deals from a variety of different creditors.
Click here to see what kinds of accounts can be included in our debt settlement program or call New Era Debt solutions directly at 800.527.4421 for a free consultation.
Is Debt Settlement Right for You?
Do you have a legitimate financial hardship condition?
The majority of debt problems in Chicago are likely caused by some combination of loss of income, medical complications, emergency expenses, and sudden divorce or separation. These are legitimate financial hardships that can happen to anyone and can ravage your finances through no fault of your own. If an outside circumstance caused you to fall behind on your payments or caused surprising new expenses, you may have an appropriate financial hardship.
Debt Settlement, however, should not be considered a free pass for people who don't feel like paying their bills. If you are over your head due to a hardship circumstance, and you'd prefer to work things out with your creditors rather than declare bankruptcy, then Debt Settlement can provide an honest and ethical channel for debt relief.
Are you committed to getting out from under your debt?
Debt Settlement is an aggressive approach to debt relief; and, as such, it presents an occasional challenge. The process requires patience and determination to be free of your financial burdens. Though it is true that debt settlement can be difficult, nothing is more difficult than perpetually hauling around a mountain of debt.  For those who are willing to see it through, debt settlement can get you through your financial difficulties faster and at a lower cost than any other debt relief options in Chicago.
Why Choose New Era Debt Solutions
Finding a trustworthy company is not always easy, but the differences are obvious if you know what to look for. The first way to make sure you are dealing with professionals is by asking these 14 important questions. It is always a good idea to check with the Better Business Bureau for the company's rating and complaint history, especially with consumers in Chicago. New Era Debt Solutions works hard to maintain an A+ rating with the Better Business Bureau.
New Era has been helping Chicago consumers become debt free since 1999. We've settled more than $250,000,000 in debt and worked with thousands of clients in a variety of situations. You can visit our Testimonials page to read or listen to the stories of real clients in their own words.
No Upfront Fees. A Debt Settlement company should not charge you any fees unless or until they settle your debt. This is not only the most ethical way to do business – per an FTC ruling effective October 27, 2010, it's also the only legal way to charge fees.
No "add-on" fees. Some debt settlement companies try to get around the law by charging administrative fees, signing fees, consultation fees and various other excuses to get upfront payment from you. Honest debt settlement companies, such as New Era, charge a settlement fee which you do not pay until your debt is settled. Always make sure you know what you are being charged for.
End-to-end service. Some "debt settlement" companies you may find are only sales groups who will hand off your accounts to a different company that will negotiate the actual settlement. The problems with this are self-evident. This sales group passes along your information, possibly to multiple companies, and is not invested in your needs or experience once your file is off their desk. Look for a company such as New Era who will handle your program from beginning to end.
With the crash of the sub-prime mortgage industry in Chicago many new debt settlement companies headed by prior mortgage industry people suddenly popped up to take advantage of the situation. As the economy shifts and changes, this will surely happen again. Do not be drawn in by ads full of buzz-word phrases and a polished exterior. These companies simply do not have the experience or the relationships necessary to achieve your best settlement deals. Look for companies like New Era who have been around long enough to amass a solid settlement track record.
Get Started
Consumers in Chicago can get a FREE analysis of their debt. We will show you how much time and money you can save. Contact New Era Debt Solutions to get started.