Debt Settlement in Georgia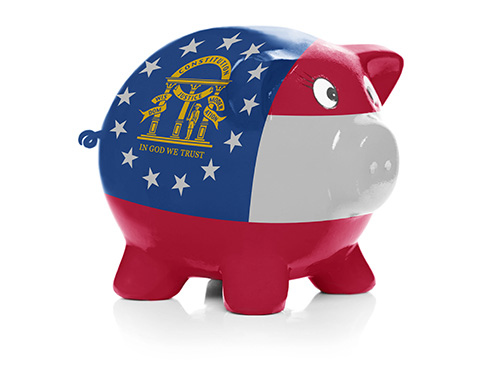 Georgia Debt Laws
Consumers in Georgia are protected by the national laws of the Fair Debt Collection Practices Act (FDCPA) which includes things such as:
Debt collectors are not allowed to contact a debtor at work unless they are unable to be reached by substantial efforts to contact them at home.
6% is the maximum interest rate that a collection agency can charge in Georgia.
Consumers have 60 Days of 100% wage protection in Georgia.
Georgia Statute of Limitations
The statute of limitation in Georgia sets the maximum amount of time that creditors have to collect on a debt. For Georgia debt, the statutes are not applied until a consumer has become delinquent on their payments, not from the date of their last payment. For different types of debt in Georgia, these are the limitations set by the state law:
Promissory Notes: 3 years
Open Credit Card Accounts: 3 years
Written Contracts: 6 years
Oral Agreements: 6 years
Relieve Debt with Georgia Debt Settlement
How Does Debt Settlement Work?
The process of negotiating debt down in Georgia works by arranging a settlement payment for your unsecured personal debt accounts for less than the principal balance owed. Debt settlement differs from Debt Consolidation or Credit Counseling in the sense that it does not only affect the interest rate, but can also reduce the balance of the debt.
By negotiating down the debt balance, Georgia Debt Settlement can provide a much quicker route to financial freedom. This form of debt relief works because many creditors are willing to settle for only a portion of the total balance owed as it is better to receive some payment rather than lose the entire amount in a bankruptcy proceeding.
Our experienced team of debt negotiators can help you get some of the best settlement offers in Georgia, but deals like these don't last forever. Those who are willing to take action now are the ones who can find the most success in a Georgia debt settlement program.
Types of Debt that can be included in a Debt Settlement Program in Georgia:
Credit cards
Private student loans in default
Personal lines of credit
Signature loans
Old repossessions
Department store cards
Old judgments
Other unsecured debts
Types of Debt That Do Not Qualify for Settlement in Georgia:
Car loans
Credit Union debts
Federal student loans
Home mortgages
Other secured debts
Medical / Hospital bills
Georgia Debt Settlement Services by City
Atlanta Debt Settlement
Augusta Debt Settlement
Columbus Debt Settlement
Macon Debt Settlement
Savannah Debt Settlement
Athens Debt Settlement
Sandy Springs Debt Settlement
Roswell Debt Settlement
Albany Debt Settlement
Johns Creek Debt Settlement
These lists are not exhaustive. Check with your debt counselor for more information on what types of debts can be settled in Georgia.
Different Methods for Relieving Debt in Georgia
These are some of the different methods that can be used to get relief from unsecured debts in Georgia.
1. Continue making minimum monthly payments.
Making minimum monthly payments may feel like the affordable choice, but this is most often the worst strategy for attaining freedom from debt. This option may feel like the right thing to do if you're in a financial pinch, but the longer any debt takes to pay off, the more interest is able to accrue.
2. Credit Counseling or Debt Management.
A Debt Management Plan (DMP) or Credit Counseling is a form of debt relief in which a single monthly payment is made to a credit counseling agency, ideally at lower interest rates so you can pay off the debt faster. That counseling agency then distributes the payment to creditors on your behalf & since you are paying a lower interest rate making payments to the agency, you end up saving in the long run. The real drawback to this type of debt relief is that it still requires repayment of 100% of the debt plus interest. These programs are often designed to take between 3 to 5 years to complete and do not have high rates of completion in Georgia, but may still be a viable option for your financial situation.
3. Debt Consolidation.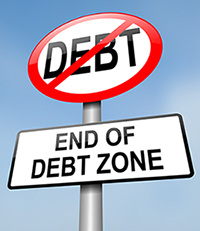 With debt consolidation, you take out a larger, low-interest loan and use that money to pay off your higher-interest unsecured loans. This leaves you making a single monthly payment that is – in theory – lower than what you were paying for all your credit card and other unsecured loans.
4. Debt Settlement or Debt Negotiation in Georgia.
Debt settlement differs from the first two options in that the actual principal balance you owe is negotiated downward. Because you end up owing less, debt settlement is generally a faster and less expensive debt relief option than either debt counseling or debt consolidation.
5. Bankruptcy.
For the individual who cannot meet his or her debt obligations, bankruptcy may be inevitable. A formal declaration of bankruptcy stops the creditor collection process, and the debtor no longer owes some or all the unsecured debt.
Figure Out Which Form of Debt Relief is Best for Your Situation
Are you burdened by a legitimate financial hardship?
Loss of income, medical issues, and divorce / separation are the leading causes of debt issues in the state of Georgia. These situations can happen to anyone through no fault of their own and can create legitimate financial hardships for Georgian consumers. If you're looking for debt relief in Georgia, we recommend looking into our programs for Fulton County debt settlement, Gwinnet County debt settlement, and Cobb County debt settlement to see what type of relief options are available.
Despite what many have heard, a Debt Settlement program is not a "free ride" for people who don't feel like paying their bills. It is a form of debt relief that can help those who are in over their head due to a hardship circumstance, and would prefer to negotiate a settlement deal with creditors rather than declare bankruptcy. A Georgia Debt Settlement program can provide an ethical and honest debt relief alternative for many consumers who have fallen on hard times.
Are you committed to becoming fully debt-free in Georgia?
Your level of commitment to staying with the program, even when the slope ahead seems steep, is often the most important factor for determining your level of success in debt settlement. For those who are willing to see it through to the end, settlement can potentially offer you the quickest and most affordable debt relief option in Georgia.
Is the majority of your debt in Georgia from unsecured credit cards?
Unsecured debts of most types can be negotiated in Georgia.  Personal credit lines, signature loans, repossession deficiencies, financing contracts, department store cards, and miscellaneous bills are a few examples of debts that can typically be settled. For Georgia debtors that carry mostly credit card debt, you can anticipate good results from a Debt Settlement program as this type of unsecured debt often offers the biggest discounts from negotiation efforts.
Is New Era the Right Debt Settlement Company for Me?
Asking these 14 important questions can help you separate the reliable debt settlement firms from the phonies. Before making the decision on which debt relief company works best for you, it's always a good idea to check the company's rating and complaint history with Better Business Bureau (BBB). New Era Debt Solutions has an A+ rating with the Better Business Bureau.
New Era in association with CFLN has been helping Georgia consumers become debt free since 1999. Our team of expert debt negotiators has settled more than $250,000,000 in debt over the past 20 years. Want to know more about have said about our work in the past? Visit our Testimonials page to read or listen to our reviews.
Our team of debt professionals has extensive experience providing debt settlement in Atlanta, Richmond, Augusta, Columbus, and other cities from around the state. Give us a call today at (800) 527-4421 to see how much you could save by tackling your debt now.
What Makes New Era Different from Other Georgia Debt Settlement Companies?
No Upfront Fees. A Debt Settlement company should not charge any fees until or unless they settle your debt. Period. Not only is it unethical to charge upfront fees for this type of debt relief service, but per an FTC ruling effective October 27, 2010, it's actually illegal to charge debt settlement clients in this way. So, beware of any company trying to charge you upfront for settlement.
No "additional" fees. Some debt settlement companies in Georgia try to get around the law by charging "add-on" fees such for administration, signing, consultation, and various other excuses to try to siphon extra money from you. The honorable debt settlement companies, such as New Era, charge only a settlement fee which you do not pay until the debt has been settled.
End-to-end service. Some "debt settlement" companies in Georgia are only sales groups who act as brokers that will sell or pass your account off to a different company that will actually handle your settlement. This can be scary as it means your financial data is being passed around and the salesperson has no control over, or even interest in, how or if the debt is settled in the end. It's a good idea to look for a settlement company who can singlehandedly handle your program from beginning to end. At New Era, we offer such a service.
Decades of Experience. With the crash of the sub-prime mortgage industry in America, many new Georgia debt settlement companies headed by prior mortgage industry professionals suddenly popped up. These companies may be able to handle your case, but frankly, many of them do not have the experience or the relationships that can lead you to the best settlement deals. Look for companies who have been around long enough to amass a solid settlement track record. With over two decades of experience in debt settlement, New Era has been negotiation with creditors since before the turn of the century, and we're proud to have settled more than $250,000,000 in debt for our clients.
Get Started Today
Consumers in Georgia can get a FREE analysis of their debt. Our team of debt relief specialists will show you how much time and money you can save if you're willing to start now. Contact New Era Debt Solutions to get started.