Debt Settlement in Florida
New Era Debt Solutions has helped thousands of Florida consumers achieve freedom from debt. Since 1999, our team of debt experts has helped those who are struggling financially to clear over $250,000,000 in debt through ethical, low-cost channels. These are the first steps to getting started with debt relief in Florida: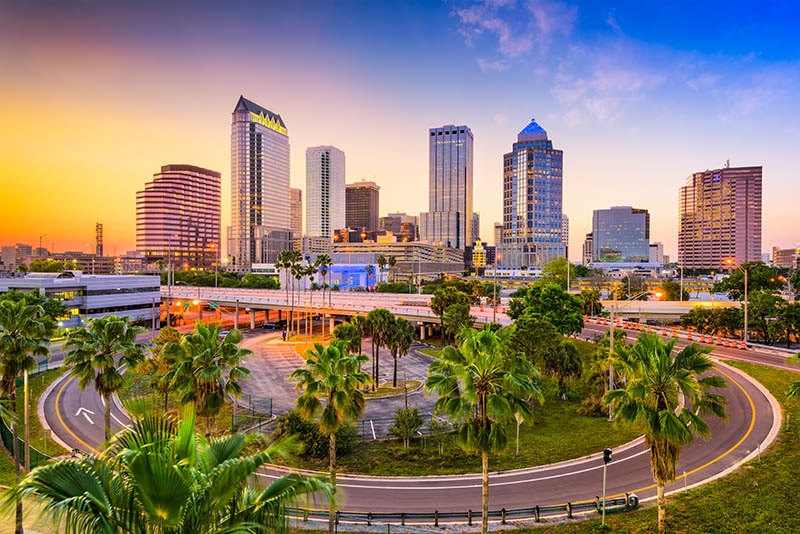 Give New Era Debt Solutions a call at 800.527.4421 for a free consultation.
Read up on the important factors for how to succeed in debt settlement.
Explore the debt relief options available that other Florida consumers have had success with in the past
Florida's Laws on Debt Relief & Collection
The state of Florida offers a few protections to consumers who find themselves in debt.
A debtor must consent before a creditor or debt collector can communicate with the debtor's employee before a judgment is obtained.
$1,000 is punishable on violations and all debtors are entitled to reasonable attorney fees & a sum equal to the damages they sustained.
The statute of limitations for debt in Florida establishes the maximum amount of time that a creditor has to pursue repayment of consumer debts. The state's statute of limitations are as follows:
Written Contracts & Promissory Notes: 5 years
Oral Agreements & Open Accounts (credit cards): 4 years
In other words, Florida consumers may not have to pay back debts that are older than 5 years past due.
Learn More About Settling Debts in Florida
Process Involved with Florida Debt Settlement
Debt Settlement is a debt relief method that involves bargaining with your credit company. Unlike other forms of debt such as Debt Consolidation and Credit Counseling, settlement can reduce the total level of debt in addition to reducing the interest rate applied.
By negotiating the total debt balance down, Florida settlement can provide a much faster means of relieving the pressure of debt. The majority of creditors are willing to accept a discounted repayment to close out an account rather than get nothing when a debtor files for bankruptcy.
With over 20 years of experience providing debt relief services around the country, our team of debt experts is ready to settle your debts in Florida.
Types of debts that can be included in a Florida Debt Settlement program:
Credit cards
Department store cards
Signature loans
Personal lines of credit
Old repossessions
Other unsecured debts
Old judgments
Private student loans in default
Types of debt that do not qualify for settlement in Florida:
Home mortgages
Federal student loans
Car loans
Other secured debts
Credit Union debts
Medical / Hospital bills
Cities with Florida Debt Settlement Services
Miami Debt Settlement
Tampa Debt Settlement
Orlando Debt Settlement
St. Petersburg Debt Settleent
Hialeah Debt Settlement
Port St. Lucie Debt Settlement
Tallahassee Debt Settlement
Cape Coral Debt Settlement
Fort Lauderdale Debt Settlement
This is not an exhaustive list. Make sure to check with your Florida debt counselor before making any final decisions.
Consider Your Options for Debt Relief in Florida
Each route for achieving freedom from debt has its advantages & disadvantages. Find out more about the common methods of debt relief used in Florida below.
1. Make minimum monthly payments
Continuing to make minimum monthly payments may feel like the easiest and most simple solution, but this may be the worst strategy for attaining relief from debt. It takes the longest to pay off the debt & costs the most in interest in the long run.
2. A Debt Management Plan or Credit Counseling
Credit counseling is a debt management program where a debtor pays a monthly sum to a debt relief firm. That agency then distributes the funds to creditors on the debtor's behalf while negotiating lower interest rates for each debt. Unlike most settlements, you still end up repaying the entire sum of the debt back plus any interest that accrued during this time. These programs are designed to be completed in less than 5 years but have historically had a high rate of failure in the state of Florida.
3. Florida Debt Consolidation Loan
Taking out a debt consolidation loan in Florida is a process that involves combining all debts into a single, lower payment with lower interest rates. The downside to this form of debt relief is that it does not reduce the principal amount like settling the debt can.
4. Debt Settlement or Debt Negotiation in Florida.
Debt settlement differs from the first two options in that the actual principal balance you owe is often reduced. Because the overall amount of debt that has to be repaid is lower after negotiation, settlement is generally a faster and less expensive option for debt relief than either a debt consolidation loan or credit counseling.
5. Bankruptcy.
Bankruptcy is the last resort option for clearing your name of debt. A formal declaration of bankruptcy stops the creditor collection process, and the debtor no longer owes some or all the unsecured debt. Depending on which type of bankruptcy is filed, the debtor may also be required to repay that debt in with an easier to manage repayment plan. Although this form of relief can be very effective at cleaning out debt, it's also just as effective at destroying your credit rating and should only be used when no other viable options exist.
Figure Out Your Financial Situation Today
Are you facing legitimate financial hardship?
Most of the Floridians who find themselves in financial trouble got there because of a loss of income, separation or divorce from their spouse, or medical issues. All of these situations are legitimate financial hardships that can happen to everyone, and we understand that these experiences can create major issues with any household on a budget.
A debt settlement program is not a free ride for those who want to skip out on repaying their debts, but it is an option that can offer unmatched level of relief from debt. If feel like you're in over your head due to a financial hardship and you'd prefer to work things out with your creditors rather than declare bankruptcy, then Florida Debt Settlement may be the best alternative for the future of your finances. Call 800.527.4421 to speak to a debt expert today.
Are you committed to becoming debt free?
Debt Settlement is an aggressive approach to achieving debt relief. It requires a strong level of commitment to finishing the program, but those who are able trek through its entirety reap the many benefits of being free of debt.
Is the majority of your Florida debt from credit cards?
Most forms of unsecured debt can be negotiated down such as personal lines of credit, financing contracts, signature loans, department store cards, repossession deficiencies, and other miscellaneous debts. The largest reductions in debt principal tend to happen with credit card debts; so, if a greater portion of your Florida debt is from plastic, you can often expect good results from a debt settlement program.
What Makes New Era the Right Debt Relief Company for Me?
Asking these 14 important questions can help narrow down whether a debt settlement company is right for your situation, but in general, we always recommend checking their Better Business Bureau profile out to read reviews from other Florida consumers.
New Era Debt Solutions has a rating of A+ with the Better Business Bureau. Our team of Florida debt negotiators has been helping consumers become debt free for over 2 decades. We've settled more than $250,000,000 in debt and worked with thousands of Floridian clients over the past 2 decades, providing debt settlement in Miami-Dade County, Broward County, Palm Beach County, and many other areas of the state. Browse our Testimonials page to get an idea of what past customers have had to say about our debt relief services in Florida.
Here's what makes New Era Debt Solutions different:
 No Upfront Fees. A Debt Settlement company should not charge you any fees unless or until they settle your debt. Period. This is not only the most ethical way to do business – per an FTC ruling effective October 27, 2010, it's also the only legal way to charge fees.
No "add-on" fees. Some debt settlement companies try to get around the law by charging administrative fees, signing fees, consultation fees and various other excuses to get money from you. Good guy debt settlement companies such as New Era charge only a settlement fee, which you do not pay until your debt is settled.
End-to-end service. Some "debt settlement" companies you may talk with are only sales groups who will sell or pass your account off to a different company to handle your settlement. This means your financial data is being passed around and the sales person has no control over – or interest in – how your debt is settled. Look for a company such as New Era who will handle your program from beginning to end.
Experience. With the crash of the sub-prime mortgage industry in Florida many new debt settlement companies headed by prior mortgage industry people suddenly popped up. These companies do not have nearly the experience or the relationships that lead to your best settlement deals. Look for companies who have been around long enough to amass a solid settlement track record. For example, New Era has been settling debts since 1999, and we've settled more than $250,000,000 in debt for our clients.
Get Started with Florida Debt Relief Today
Consumers in Florida can get a FREE analysis of their debt. We will show you how much time and money you can save. Contact New Era Debt Solutions to get started with Debt Settlement in Jacksonville, Miami, Tampa, Orlando, or any other city in Florida.