Black Friday: Starting the Holidays Debt Free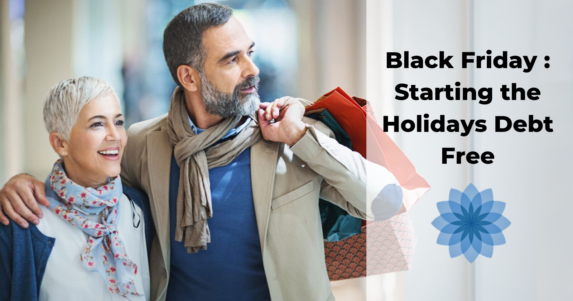 Black Friday marks the start of the largest shopping season of the year. Last year Americans spent $9.9 billion online shopping over the two-day span of Thanksgiving Day and Black Friday, a 19.7% increase over the previous year. According to a consumer survey, people plan to spend an average of $502 on Black Friday this year.
Americans racked up an average of $1,054 of debt during last years holiday season, which was about 5% more than 2017. Only half of those surveyed said that they plan to pay off their holiday-induced credit card debt within three months. If you make the minimum payment of $25 a month on a $1,054 tab, it will take till 2024 to pay off the debt. This includes the hundreds of dollars of interest you will acquire over that time period.
With these horrifying statistics, there is no question why the average American household is approximately $8,398 in debt. That's $1.07 trillion in total credit card debt divided by 128 million U.S. households.
Black Friday is known to be the best time of year to Christmas shop, due to the steep discounts. Although this is true it can be extremely hard to keep yourself out of debt with holiday sales around every corner.
Follow these 5 tips to avoid burying yourself in debt this Black Friday:
Create a Budget Before Black Friday Begins
Before creating a list of all the things, you want to purchase on Black Friday, create a realistic budget for yourself. Take a look at how much money you have already saved for the entire holiday season and how much you can afford to spend over the season. When you know how much money you are able to spend make a spending plan for the entire holiday season. Take a look at your spending's from last year to get a realistic look at what you spend during the last few months of the year.
Items you may want to factor into your holiday budget plan include:
Travel Costs
Gifts
Food and Parties
Holiday Activities
Wrapping Supplies
Decorations
Stamps
Once you have a holiday spending plan, you will know how much money you can spend on Black Friday. Create a list of who you will be buying gifts for (including yourself). From there divide up the gift budget and try to stay within that number for each person.
Leave the Credit Cards at Home
Once you have a gift budget, drive to the bank and take out cash. It makes it a lot harder to overspend if you only brought the amount of cash you should be spending on Black Friday. A cash budget allows you to see how much you have spent and separate your needs from your wants, minimizing impulse purchases.
It also reminds us how much money we are spending when we can see the amount of cash it actually takes to purchase something. A wad of cash feels much harder to part with than a single plastic card that you hand over and receive back a moment later.
Buy Fewer Gifts
The holidays are about way more than the gifts you give and receive. Keep your budget in mind and only buy the number of gifts you can afford to give. It is the thought that counts not the value of the gift you give. Many Americans have the same financial burden as you and may not be able to buy everyone a gift either. Instead of getting each person a gift try changing up the family or friend gift exchange with an alternative present giving strategy.
Secret Santa is a popular choice that is fun and financially smart. Write everyone's name on a piece of paper and have each person in the group pick a name out of a hat. This way everyone still gets a gift, and each giver can afford to get their chosen person a more thoughtful and expensive gift. Make sure to have everyone choose a name before Black Friday so you can take advantage of the specials.
Another option is a White Elephant gift exchange. To participate in the exchange everyone must bring a wrapped gift to the holiday event. Follow these steps to achieve a successful White Elephant exchange:
Place wrapped gifts in the center of the room.
Draw a number.
Number one chooses a gift, unwraps it, and puts it on display for everyone to see.
Everyone has two options; steal a gift or choose an unopened gift.
If your gift is stolen, you may steal someone else's unwrapped gift or choose another from the pile.
Gifts can only be stolen up to three times, the fourth owner gets to keep it.
Get Cash Back for Shopping
Sign up for websites and apps that let you earn cash back for shopping at the stores listed on their site. Some apps to download before Black Friday are:
Ebates
Ibotta
Receipt Hog
If you want, download multiple apps to double up on rewards, if multiple apps offer a reward for the receipt. Check out the apps before to see which stores, they are offering rewards for. Ebates offers a $10 sign up bonus and offers up to 40% cash back at over 2,500 stores. Stores pay Ebates a commission for sending you their way, and Ebates shares the commission with you as Cash Back. Make sure to go through the app to the retailer's website in order to receive the cash back.
Ibotta offers cash back in store and online when you shop for groceries, clothing, home, travel, and more. To earn in-store add the offers you plan on buying and upload an image of your receipt after the purchase. To earn online, visit the retailer's website through the app in order to receive rewards.
Receipt Hog is not as complicated as the other two apps, because you can take pictures of any receipt without thinking about it before the purchase. However, you do not earn money as fast as the other two alternatives.
If you are able to only download one offer app, Ibotta has the most variety of cash back options.
Look For Ways to Cut Back
If you did not plan ahead by setting aside money for the holiday season, it is not too late. Simply look for ways to temporarily cut back on finances for November and December, so you have more money at your disposal. To find money in your budget, you can:
Cancel or hold your gym membership.
Cut out subscriptions and memberships.
Start carpooling.
Make coffee at home.
Cut down on utility use.
Eat out less.
Making small sacrifices for the holiday season will be worth it when you give your loved ones a gift you were able to afford, and they love.
New Era Debt Solutions has settled more than $250,000,000 dollars of debt since 1999 and wants you to be our next success story. If you need assistance achieving financial freedom, contact one of our friendly counselors at New Era Debt Solutions to learn more about finding the debt relief option that best fits your needs and budget. Our team is with you every step of the way.