Back to School Saving Strategies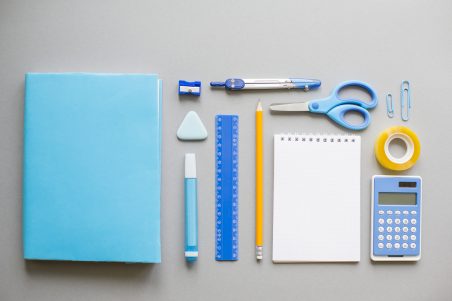 It is never too early to plan back to school shopping, especially when you are concerned about saving money. There are ways to reduce your costs when searching for school supplies for your children whether they are in grade school, high school, or headed to college. You will have to keep your eyes open for deals early though! New Era Debt Solutions gives our best strategies to save money on back-to-school supplies.
Search for Deals
Take some time to go through your email to see if there are new deals sitting in your inbox. School supplies are sold year-round, but they are strategically marketed toward the end of summer to make you think you are getting the best deal possible. There may be a wider selection toward the end of summer, but there is no harm in getting an early start on the majority of the supplies.
You can easily shop for pens, pencils, and desk supplies at any time, especially when the deals are better before parents begin flooding all the stores. Ordering inexpensive items on Amazon has become popular in the last few years and most stores are making it easier to hand out deals on mobile devices to help you save at checkout.
Buy in Bulk
When you have the opportunity to buy certain items in bulk, take advantage of the sale as long as it is a good deal. Wholesale stores, such as Costco, make purchasing large quantities of items easier. If you have more than one child going back to school in the fall, then it may be beneficial to spend more time at wholesale stores. Most elementary schools require students to bring items for the entire classroom. For instance, tissues and paper towels are common items on the list. These items are easily found at wholesale stores at great prices.
Buying in bulk can also prepare you for future school years to come, especially because most schools require additional fees on top of school supplies. For example, most schools require lab fees and additional supplies when students take a science-related course. When you are not worried about buying extra supplies to fill your child's backpack and their classroom, you can easily tackle the additional fees.
Shop around at Home
Take a look at your supply cabinet at home before heading to the store. It is not uncommon for families to overbuy during school-shopping season. Make a list of the things you do have, so you can skip them at the store. Also, ask family members if they have extra, unused supplies sitting around their home that you can use for your children. Are there extra items sitting in the supply closet at work? Sometimes larger employers are also fine with helping out their employees, just make sure to ask. Take advantage of all the avenues to get your child's school supply shopping done efficiently for your finances.
Finding Book Bargains
Renting and selling used books has made the costs easier to tackle each school year. Purchasing books can become pricier for your college students, which is why it is important to shop around for the lowest prices and regularly rent textbooks. If you bought books in the past for your older children, then you can pass them down to your kids to save money. Sometimes, shopping for books can be a challenge for elementary school students, as the books are typically provided by the school. When you focus on saving money on school supplies, handling book fees and other costs become easier to manage.
Are you struggling with debt? New Era Debt Solutions wants to help you become debt free. Contact one of our friendly counselors to find the debt relief option that fits your needs and budget. We look forward to helping you achieve financial freedom!