Back to School Saving Tips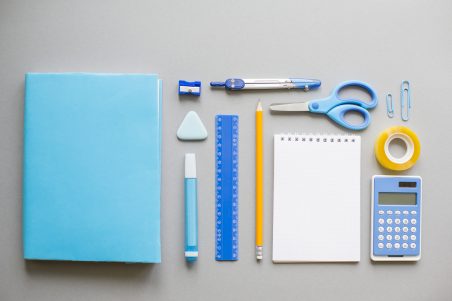 It is never too early to plan back to school shopping, which is especially true when you are concerned about saving money in the midst of a global pandemic. This year holds far more anxiety and uncertainty than most due to the threat of the coronavirus and the disease COVID-19, which may delay a return to physical schooling in the fall or interrupt the school year in the spring. While the situation does seem complicated with no obvious solution, one certainty is that the children must learn in any way they can; be it homeschool, online classes, or even physical classes during a pandemic. As if planning for three distinct situations was not difficult enough, many must do so on a shoestring budget or despite a loss of income. Luckily, New Era Debt Solutions is here to help with our best strategies to save money on back to school supplies.
SEARCH FOR DEALS
Take some time to go through ads in your mail, your email, and webpages for your local retailers to check for new deals and to easily compare prices. School supplies are strategically marketed toward the end of summer to make you think you are getting the best deal possible, so make sure to check the total price of supplies and ignore the eye-catching "big savings!" ads common in big-box stores. Avoid name-brand items as a rule but verify that any generic materials you purchase are actually saving you money. When you find a good deal or sale, capitalize on it by considering the entire school year rather than just the first semester. If you have multiple children heading back to school, it may save you even more to buy in bulk or shop wholesale to stock-up on supplies.
You can easily shop for pens, pencils, and desk supplies at any time, and the deals are often much better before parents begin flooding all the stores. Shopping for inexpensive items on Amazon has become popular in the last few years for the ease of comparing prices and ordering. However, as the demand for online shopping continues to rise, the savings are getting slimmer. Check the brand or vendor's website to see if the savings are even better when you buy from the seller directly, or if they have unique discounts not advertised on Amazon.
SHOP AROUND AT HOME
Search your supply cabinet at home before you start shopping. It is not uncommon for families to overbuy during the back-to-school panic, so make a list of the things you already have at your disposal and consolidate them back in one place. If you keep most of your supplies organized and in the same space, you can avoid re-buying items that had simply been misplaced. You
can also find school supplies in unconventional forms if you inject a little creativity. Surplus space in a social studies spiral notebook from last year can become free scratch paper this year. If the same binder, same folders, or same backpack still work, there is not much reason to replace them. If you have a damaged backpack, some brands will even repair or replace them for free.
Also, ask family members or friends if they have extra, unused supplies sitting around their home that you could use for your children. Hand-me-down clothes, for example, are massive money-savers that can even be useful in multiple contexts but are often wasted. Old, baggy, over-sized clothes are not only acceptable, but are even considered fashionable in many places. Teaching a child to sew repairs, hem, or even re-cut old clothes teaches them a valuable skill while still being a fun and creative arts-and-crafts project they might really enjoy. If done correctly, recycling material and conserving resources could help make an uncomfortable time much more bearable.
FINDING BOOK BARGAINS
Renting and selling used books once made the costs easier to tackle, but many have noticed the difference in price is shrinking. Purchasing books can become ever pricier for your college students, who will likely need a book for every class, but even high school students are being required to purchase new editions of Advanced Placement books, which is why it is important to shop around for the lowest prices and regularly rent textbooks if possible. Sometimes, it is even possible to circumvent purchasing the book altogether. Check if the books have a PDF version available and if owning the PDF will meet the requirement for the class. Printing out a textbook PDF and putting it in a three-ring binder may not be the ideal situation, but it can really save money where it counts. If even that will prove too expensive, talk to an educator or administrator (or financial aid office at a college) about assistance the school can provide. It may be deceptively simple, but many schools have resources put aside for the express purpose of assisting students who need them.
COVID-19
The rules have changed for this coming fall. Students of all ages will be trying to navigate the confusion of a world that does not know what to do with them. Priority one is the safety of yourself or your child no matter the circumstances, and safety is something you will have to take into your own hands. Masks are going to be necessary or at least recommended for a very long time, and so it would be wise to purchase many. Bundles of cheap but effective masks
should allow you to pack extra masks in the backpack, the locker, in each jacket pocket, and multiple in the car. A very distinct mask marked with the student's name would be a good idea for a younger child to prevent potential mix-ups and forgetfulness. In fact, labeling all your materials would be helpful in preventing others from accidentally taking them. Instead of buying expensive hand sanitizer, making a mix of water and soap as a hand-washing solution would be safer and more cost effective.
The other eventuality this fall, unfortunately, is online schooling. This can be a complication for many parents that will have to return to work with no guarantee that someone will be able to stay with the children. Even traditional babysitting services or daycare services are riskier than ever, and for many parents even those options are too expensive to consider. In extreme times, it falls on the community to come together and help. Talk to the people in your community and social circles; learn their names, exchange phone numbers, ask questions, and organize. Ask what your neighbors are doing if the schools do not open. Ask your coworkers who will be watching their children if they must return to the office. Find local community forums or organizations online and talk to people about the current moment. You may find that many people you know or who live nearby are going through the very same situation, or maybe even that someone has a solution. Organizing an improvised community daycare will obviously not be easy, but you may find it to be quite simple once the neighborhood comes together to care for the children who are stuck at home alone, and will help foster the social skills they would have normally developed at school. In new and trying times we should still heed old wisdom: it takes a village to raise a child.
Are you struggling with debt? New Era Debt Solutions wants to help you become debt free. Contact one of our friendly counselors to find the debt relief option that fits your needs and budget. We look forward to helping you achieve financial freedom!